Got a Fence ? let Us Cover It !
All Purpose Fence Screens.
Custom Colors, Custom Shapes, Custom Sizes.
We offer a complete line of high quality, durable and custom designed fence screens that can be tailored to the need of any project. Fence screens mesh covers are manufactured to provide privacy, protection and security without compromising your fence's integrity. Custom sizes and designs are available, offering protection against harmful ultraviolet (UV) rays, wind and other climate factors. Our full line of standard and custom mesh banners have been used at residences, resorts, hotels, swimming pools, high-rise construction sites and more. No matter what size, color or fabric you desire, our fence specialists have you covered.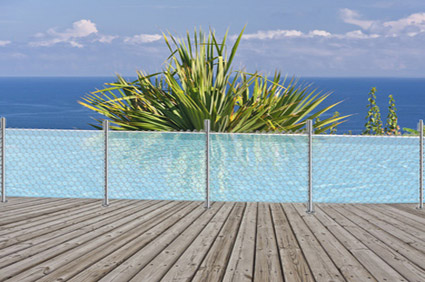 Custom Printed Fence Screens
Send us your custom image, logo or any other high resolution graphic and we will print it on our commercial grade, waterproof mesh fence screen. Simply follow easy steps to customize your own fence screen and get an instant price quote now.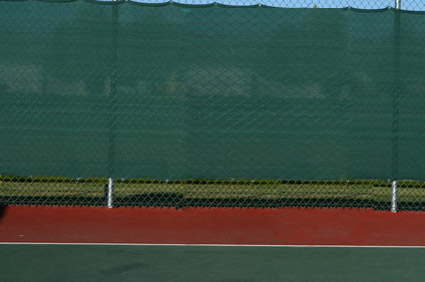 Poly Mesh Privacy Windscreens
UV and water resistant, 100% polyethylene knitted mesh privacy windscreens. The most cost effective solution to provide privacy and protection. Used in commercial or residential sites. 85%, 88%, 90% visibility blockage.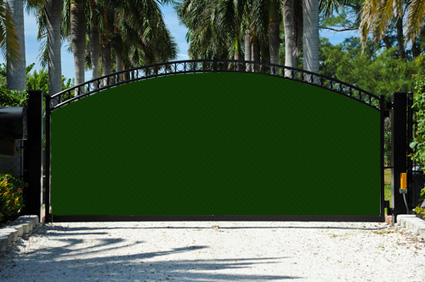 Solid PVC Vinyl Fence Screen
Our solid 16 oz heavy duty PVC vinyl fence screens provide 100% blockage from outside view. Ideal for high quality full color printing. Select this option to have long lasting fade and UV resistant fence screen in the industry.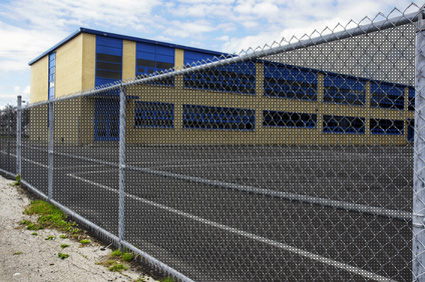 PVC Mesh Fence Screen
Our PVC mesh fence screens are ideal for projects where you need both protection and maximum unobstructed view at the same time. Ideal for tennis courts, baseball fields and chain link fences.
Fence Screen Depot
The largest selection of fence covers !
FenceScreenDepot.com offers one stop shopping for any type of fence screen. Here you can find wide range of products such as custom printed fence screens, privacy mesh windscreens, construction mesh tarps, sun shade covers and more. Our products are used in commercial as well as residential areas. Fence Screen Depot offers privacy and protection solutions for tennis courts, home backyards, contraction areas, fence barriers and more. In addition to offering custom height and width we also offer custom shaped windscreens for those who need to cover irregular areas for their project. Whether it's square, triangle or zigzag we can do it all. Additionally, you can further customize your screen to have your logo or artwork printed on it.
Sours: http://www.fencescreendepot.com/
limit buy Ifenceview 4'x30' Turquoise(Green) Fence Screen Mesh Construction Patio Garden buy discounts
twitter announced today that it will be removing its implementation of stories dubbed "fleets." the feature was either loved or hated by twitter users since its initial release last year.
this short-lived feature, which was released in november of last year, will be removed on august 3. twitter acknowledged the controversial nature of the snapchat/instagram clone with the farewell tweet. notably, there was no fleet from the main twitter account announcing the departure of the feature, only a standard tweet.
in the goodbye, the company said it is working on "new stuff." one can hope that they add the ability to edit tweets, in addition to the new edit audience and monetization features.
in a more detailed blog post, twitter shared that it hoped fleets would make people more comfortable posting onto twitter. as fleets disappear, some of the fleet creation features, like gifs and stickers, will be implemented into the standard tweets composer.
ftc: we use income earning auto affiliate links.more.
---
check out 9to5mac on youtube for more apple news:
you're reading 9to5mac — experts who break news about apple and its surrounding ecosystem, day after day. be sure to check out our homepage for all the latest news, and follow 9to5mac on twitter, facebook, and linkedin to stay in the loop. don't know where to start? check out our exclusive stories, reviews, how-tos, and subscribe to our youtube channel
Sours: https://www.eyeboston.com/reminds885b0/ccc131967.htm
Alternative Options
Product Technical Details
Materials: High-density polyethylene (HDPE) – plastic material
Construction: Knitted, double lock stitch, tape thread
Lengths: 50m & 100m
Widths: 1.83m – 3.66m
Colours: Black and green
Weights: 120 Grams per square meter
Brands: Loktex by Tildenet- market leaders in shade netting
Installation Instructions
FAQs
How high am I allowed to erect a privacy screen on my own land in the UK?
Without planning permission you are allowed to erect a fence standing at a maximum of 2m high.
For more information visit the governments planning portal website.
Can people on the outside see thru it?
If you have selected 95% privacy mesh then 95% of the visibility will be removed.  This leaves only 5% visibility remaining which is very limited.
Does the material put wear and tear on your fence?
No, the material is light and cloth-like.  It will not cause any deterioration effect on your fence.
How flexible is the material?
It is very flexible and light and almost cloth like. It can be easily rolled up and stored away.  It is also very easy to cut, commonly used as tennis privacy screen.
Common Fence Screening Uses
Festival or events
Garden and balcony
Outdoor Swimming pools & hot tub areas
Constructions sites
Stage and areas
Football, baseball field and golf court privacy screen
Tennis privacy screen
Rubbish collection points & recycle centres
Children play areas
Sours: https://www.wirefence.co.uk/plastic-mesh/privacy-mesh/
Installing a privacy fence screen mesh on a chain link.
.
Mesh fence screen
.
Heavy Duty Fence Screen
.
You will also be interested:
.
440
441
442
443
444