I've been a big fan of Yamaha's WR250F since I first rode it in 2015. The power delivery, suspension, and handling gave me the confidence to ride to more of my potential, encouraging me to tackle tougher trails. I missed riding the bike last year when Yamaha updated it. Fortunately, I have spent some quality time with the unchanged 2021 Yamaha WR250F this summer. I was not disappointed!
While I completely appreciate some of the quarter-liter trail bikes with shorter seat heights that we've tested—the Honda CRF250F, Kawasaki KLX230R, and Yamaha TT-R230—the overall package of the 2021 Yamaha WR250F enduro bike expands my self-expectations, and I end up riding better. While I'm not a racer, I do like technical single-track trails that challenge my skills. The WR250F allows me to tackle a wide variety of terrain with confidence as I trust the power and suspension of the bike to get me out of trouble when I get out of sorts.
I'll mention ergonomics first, as there's no getting around the seat height of a full-size off-road motorcycle. With a 30.5-inch inseam, I'm on my tiptoes when settled on the WR250F's 37.6-inch-high firm, flat seat. My 115 pounds don't cause the bike to sag much with the stock springs, so whenever I come to a stop, I have to plan which side I'm going to slide my butt off to get my boot firmly planted on the ground. I have reminded myself more than once that Alex Martin, who is an inch-and-a-half shorter than me, has no problem wrangling the even-taller YZ250F around a track. I mention this because the latest WR250F shares quite a bit of the current motocrosser's genes, from its chassis design to its awesome suspension, though obviously with different settings.
Okay, I'm not a professional motocross rider, nor even an amateur enduro rider. So, yes, the seat height is a bit of a bummer for me. But life is full of tradeoffs. When I'm flying down the trail and blasting through the rock garden stretches, I sure do love the long-travel suspension that tall seat height reflects. Realistically, though, I've never come close to bottoming the suspension, so I could afford to give back an inch or two of travel in exchange for a lower seat.
The 2021 Yamaha WR250F is not too big to handle; the controls are well within comfortable reach while sitting or standing, and the slender well-balanced chassis is easy to grip with my knees. The WR250F weighs 254 pounds with its 2.15-gallon tank filled, which doesn't sound overly heavy until I'm trying to pick it up from the side of the trail—the downhill side, after sliding out around a turn. Yeah, that's too heavy for me on my own. Luckily, I don't ride on my own.
Accepting that the WR250F is a bit too tall and heavy for me when I come to a stop or fall, that's not how it is when I'm riding. Let's talk about where it really shines in my eyes—the suspension, handling, and power delivery. With the same suspension components as the YZ250F, but with valving, springing, and settings targeted for trail riding, the little WR is a joy to ride.
My first foray out on some favored 4×4 two-track and motorcycle-only single-track reminds me of how important it is to adjust the suspension. I was getting a bit bounced around when I picked up the speed, and I wasn't feeling confident in turns despite sliding forward to get my 115 pounds on the front wheel. The WR's suspension is fully adjustable front and rear, so before my next ride, we went to the softest compression damping at both ends, and slowed the rebound damping. The effect was immediately noticeable!
I now felt more glued to the dirt, confident to lean into turns and click up into a higher gear on the dirt roads. With the suspension more in line with my weight, I was able to truly benefit from the speed-sensitive damping fork that is the linchpin of the WR's suspension package. Not only could I approach slow-speed technical sections with confidence, but I was equally comfortable going at a faster clip down more open sections of the trail.
The WR's power delivery complements the excellent suspension. While 35 horsepower is undoubtedly more than I need on the trails, the power is softer at the bottom and easy to modulate, with power hits accessible from 6000 to 8000 pm and again from 10k to 11k. Yamaha abandoned the California Green Sticker program, going with only EPA sound output and USFS spark arrester considerations. That means the motor tuning is far superior to the artificially corked-up Green Sticker editions—great if you don't live in California.
This forgiving engine personality is perfect in the Los Padres National Forest. Some LPNF trails could be marked Intermediate, if not for a few brief stretches that earn them a Black Diamond rating. When picking my way through messy tight pieces of trail, I have yet to stall the motor. At the same time, when I need to get on the throttle to power up a steep hill, the engine doesn't bog—being a lightweight has its advantages.
Although the WR250F has a wide-ratio gearbox, there are times when I still want 1st gear to be a little taller. I usually opted for 2nd gear with some clutch action instead of keeping the revs up in 1st gear, as the power is smoother at lower rpm. Fortunately, the clutch lever pull is not excessive, so my left hand doesn't get worn out on a technical ride. Overall, the broad powerband is excellent and makes the motorcycle easy to ride.
It was a good break from the single-track trails to click up a few gears and let the WR sprint through sand washes. Standing on the pegs and gripping the bike with my knees, I let the bike dance under me as I maneuvered through the rocks and debris. At high speeds, the front end tends to feel a bit loose, though never unstable. Desert riders will want to invest in a steering damper.
Handling is intuitive. The WR250F's chassis is narrow and well balanced, making it easy to change directions with a subtle weight shift. Sometimes barreling down a trail, I can get off-line. Almost always, body English helps me avoid the rock or rut looming in my path. Turning on fast dirt roads takes a bit more work, as I don't have much weight to move up over the front wheel, and my "steering with the back end" skills need work.
The WR250F's 21-/18-inch wheels are shod with Dunlop MX3S tires, and I was well-satisfied with the traction almost everywhere. Once I had the suspension properly adjusted for my weight, the Dunlops kept a secure grip in all conditions from rubbly trails, dirt roads, and hard-packed hill climbs. The only time I ever thought about them was at speed on dirt roads as I approached flat turns. That's more a matter of rider technique than a rubber issue.
Allowing me to twist the throttle aggressively is the confidence delivered from an excellent front brake. There's just the right amount of play before engagement of the pads on the 270mm disc. There's nothing grabby about the engagement, and a reliably linear feel after that. The rear brake doesn't get a lot of use on the trails, but I can report that it's not too touchy, and the lever is easily accessible whether standing or sitting.
The WR250F does everything so well, it's hard for me to find anything to pick on, but I will mention two things. While there's nothing better than electric start on a tall dirt bike—heck, any motorcycle—and the WR did not always fire up on the first push of the button. Clicking into neutral before hitting the button made a noticeable difference, but it still wasn't a sure thing when the motor was hot. Also, I don't love the unsealed aluminum frame as my boots manage to polish the main spar on every ride, leaving me with messy dark smudges on my Alpinestars Tech 7 Enduro boots. If I bought the bike, I'd invest in a pair of Acerbis X-Grip frame guards.
The test unit had a pair of $190 Cycra Ultra Handguards sold by Yamaha Parts & Accessories. As we did lots of testing in wooded areas with plenty of branches intruding onto the trail, the handguards did their job. Additionally, when I did fall a few times, the guards took the beating—and survived, though looking a bit worse for wear. Still, that's better than bending or breaking a lever. Handguards are a personal thing, so I understand why they're not stock on the WR250F. Still, I consider them to be an essential accessory.
It's interesting to see how much of a difference better suspension and handling can make to one's riding skills. It might be easy to think that if one isn't a high-performance rider, then premium suspension is a waste—not so. Better equipment enables better performance. Additionally, the WR250F's power delivery creates a lot of trust, which encourages me to push myself, and one success leads to another. While its tall stature challenges my inseam, the 2022 Yamaha WR250F remains my favorite trail riding bike as its capabilities expand my riding world.
Photography by Don Williams
RIDING STYLE
2021 Yamaha WR250F Specs
ENGINE
Type: Four-stroke single
Displacement: 249cc
Bore x stroke: 77.0 x 53.6mm
Compression ratio: 13.8:1
Fuel delivery: EFI w/ 44mm Keihin throttle body
Valvetrain: DOHC; four titanium valves
Transmission: Wide-ratio 6-speed
Clutch: Wet multiplate
Final drive: O-ring chain
CHASSIS
Frame: Twin-spar aluminum
Front suspension; travel: Fully adjustable KYB Speed-Sensitive System inverted fork; 12.2 inches
Rear suspension; travel: Linkage-assisted fully adjustable KYB shock; 12.5 inches
Tires: Dunlop Geomax MX3S
Front tire: 80/100 x 21
Rear tire: 110/100 x 18
Front brake: 270mm disc
Rear brake: 245mm disc
DIMENSIONS and CAPACITIES
Wheelbase: 58.3 inches
Rake: 27.2 degrees
Trail: 4.6 inches
Seat height: 37.6 inches
Ground clearance: 12.8 inches
Fuel capacity: 2.15 gallons
Wet weight: 255 pounds
Color: Team Yamaha Blue
2021 Yamaha WR250F Price: $8599 MSRP ($8789 as tested)
2021 Yamaha WR250F Review Images
Kelly Callan
Kelly is an avid two-wheel commuter, enjoying the frenetic energy of Southern California's freeways on the wide variety of test bikes passing through the UM garage. Partial to singles, she's equally appreciative of twins, triples, and fours, and enjoys sporting canyon rides or off-road riding on weekends.
Sours: https://ultimatemotorcycling.com/2021/09/08/2021-yamaha-wr250f-review-single-track-nirvana/
2021 Yamaha WR250F Price, Specs, Review, Top Speed, Mileage, Seat Height, Horsepower, Overview
Hello, Guys, Hi!!!! Hope you all are doing well. Today Here in this article, I am going to share with you 2021 Yamaha WR250F Bike Complete guide Including:
Yamaha WR250F Price
Yamaha WR250F Specs
Yamaha WR250F Top speed
Yamaha WR250F Horsepower
Yamaha WR250F Mileage
Yamaha WR250F Review 
Yamaha WR250F Seat Height
Yamaha WR250F Weight
Yamaha WR250F Price in India 
I hope that all kinds of information useful to you, cause I assure you that all types of information are genuine and reliable, no need to go anywhere after visiting our site. So let's check it out.
The Yamaha WR250F builds on Yamaha's excellent motocross race platforms—the Yamaha YZ250F™—with added features and different settings designed to optimize the WR for enduro riding.
A forged piston, aggressive cam profiles, high-compression cylinder head, cylinder geometry and much more work together to provide Yamaha WR250F riders with a broad spread of useable thrust with superior high-rpm power. Yamaha WR250F fitted with the convenient push of a button start that features a compact starter motor system battery.
Yamaha's bilateral beam aluminum frame is derived straight from the Yamaha YZ250F to centralize mass and give an excellent balance between straight-line confidence and cornering feel.
Yamaha uses KYB spring-type forks on the Yamaha WR250F motorcycle, with industry-leading functionality and simple tuneability for a wide range of conditions.
You May Also Like to Check:
Yamaha WR450F Price
Yamaha WR250R Price
Yamaha WR250F Price
2021 Yamaha WR250F Price in The USA
Price Starting at $8,599 + Destination Charge: $425
Yamaha WR250F Mileage
➥ Mileage: NA
Yamaha WR250F Key Features
Engine Type: 250cc liquid-cooled DOHC 4-stroke; 4 valves
Bore x Stroke: 77.0mm × 53.6mm
Transmission: Wide-ratio 6-speed; wet multiplate clutch
L x W x H: 85.6 in x 32.5 in x 50.0 in
Seat Height: 37.6 in
Fuel Capacity: 2.15 gal
Wet Weight: 254 lb
30 Day (Limited Factory Warranty)
Yamaha WR250F Specs
ENGINE
| | |
| --- | --- |
| Engine Type | 250cc liquid-cooled DOHC 4-stroke; 4 valves |
| Bore x Stroke | 77.0mm × 53.6mm |
| Compression Ratio | 13.8:1 |
| Fuel Delivery | Mikuni® fuel injection, 44mm |
| Transmission | Wide-ratio 6-speed; wet multiplate clutch |
| Final Drive | O-ring chain |
SUSPENSION
| | |
| --- | --- |
| Suspension / Front | KYB® Speed-Sensitive System inverted fork; fully adjustable, 12.2-in travel |
| Suspension / Rear | KYB® single shock; fully adjustable, 12.5-in travel |
BRAKES
| | |
| --- | --- |
| Brakes / Front | Hydraulic single disc brake, 270mm |
| Brakes / Rear | Hydraulic single disc brake, 245mm |
TIRES
| | |
| --- | --- |
| Tires / Front | 80/100-21 Dunlop® MX3S |
| Tires / Rear | 110/100-18 Dunlop® MX3S |
DIMENSIONS
| | |
| --- | --- |
| L x W x H | 85.6 in x 32.5 in x 50.0 in |
| Seat Height | 37.6 in |
| Wheelbase | 58.3 in |
| Rake (Caster Angle) | 27.2° |
| Trail | 4.6 in |
| Maximum Ground Clearance | 12.6 in |
| Fuel Capacity | 2.15 gal |
| Fuel Economy** | n/a |
| Wet Weight | 254 lb |
WARRANTY
| | |
| --- | --- |
| Warranty | 30 Day (Limited Factory Warranty) |
Yamaha WR250F Review Video
Yamaha WR250F Top Speed Video
Yamaha WR250F Images
That was all about the 2021 Yamaha WR250F For Sale, Price, Specs, Top Speed, Review, Features, Images, we hope it will be helpful for you to buy or sell this model bike, but if you have any problem regarding this post, then please comment for us we will try to solve it. Thanks for visiting our site and please stay with our website for more stuff like this.
Sours: http://allbikeprice.com/yamaha-wr250f/
2021 Yamaha WR250F [Model Overview]
2021 Yamaha WR250F: Serious Enduro Competition From A Serious Bike
The 2021 WR250 is a reworking of Yamaha Motorcycles' WR250F motocross racer into a capable enduro cross country racer. With knowledge learned from multiple national and international enduro championships over the decades, the bike has some serious technology packed into it. As well, being powered by a 250cc 4-stroke, liquid-cooled single cylinder, it's an awesome offroad addition to the 2021 lineup.
Braking is through a 270mm floating wave disc up front, clamped by a 2-piston competition caliper, and a 240mm wave disc out back with a single-piston competition caliper. The front wheel is 21 inches in diameter, with the rear at 18 inches. Ground clearance is at 12.6 inches (320 mm). Suspension is full competition grade 48 mm inverted forks up from with 12.2 inches of travel, with a fully adjustable monocross rear suspension that has 12.5 inches of travel. Everything that you can expect from a Japanese-made bike.
The 2021 Yamaha WR250F starts at $8,599 USD / $10,199 CAD.
On this page:we've curated specs, features, news, photos/videos, etc. so you can read up on the new 2021 Yamaha WR250F in one place.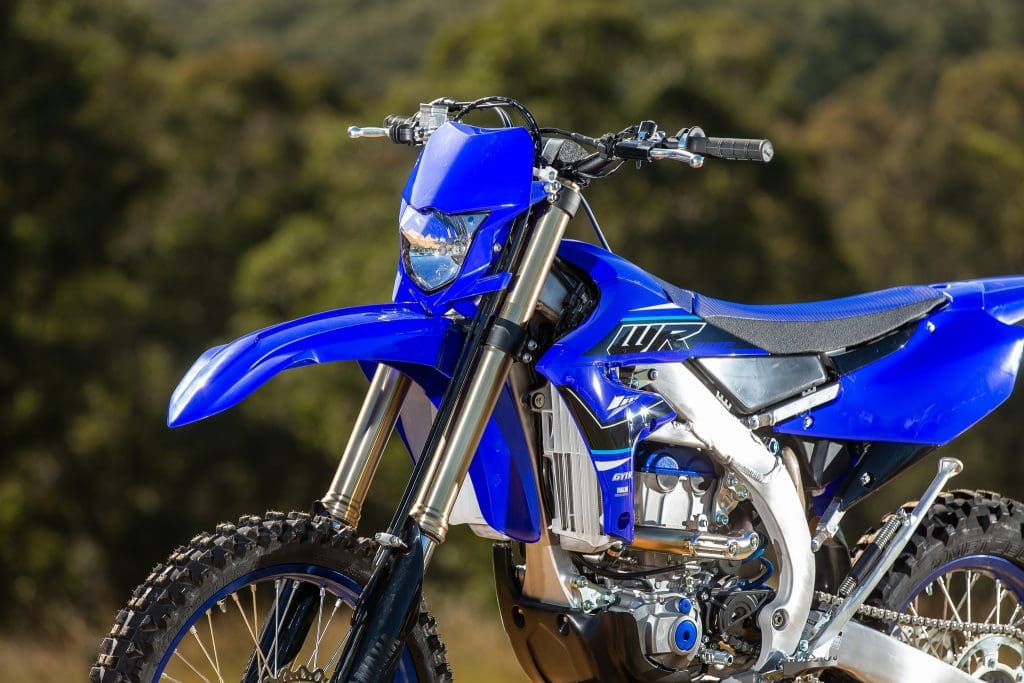 ---
Model Overview
General Info
Price: $8,599 USD / $10,199 CAD
Key Features:

Competition spec suspension and brakes
Engine retuned for durability and power at higher RPMs compared to MX bikes
Designed with knowledge and experience from multiple championships at the national and international level
Main Specs
Engine Type: 250cc single 4-stroke, liquid cooled
Horsepower: Approximately 30 HP
Torque: Approximately 21 lb-ft
Wet Weight: 254 lbs (115 kg)
Seat Height: 37.6 inches (955 mm)
---
2021 Yamaha WR250F Specifications
From Yamaha
ENGINE

Engine
250cc single 4-stroke, liquid cooled
Power
Approximately 30 HP
Bore x Stroke
Compression Ratio
Fuel System

Mikuni® fuel injection, 44mm

Starter
Electric
Lubrication

DRIVETRAIN

Clutch
Multiplate wet clutch
Transmission
Final Drive
O-ring chain

CHASSIS

Suspension Front

KYB® Speed-Sensitive System inverted fork; fully adjustable, 12.2-in travel

Suspension Rear

KYB® single shock; fully adjustable, 12.5-in travel

Brakes Front
Hydraulic single disc brake, 270mm
Brakes Rear

Hydraulic single disc brake, 245mm

Tires Front
Tires Rear
Fuel Tank Capacity
Color
Team Yamaha Blue

ELECTRICAL

Ignition
Spark Plugs
Headlight
LED
Tail Light
LED

DIMENSIONS

Overall Length
Overall Width
32.5 in
Overall Height
50.0 in
Wheelbase
Ground Clearance
Seat Height
Wet Weight

WARRANTY

Warranty
1 Year (Limited Factory Warranty)
Extension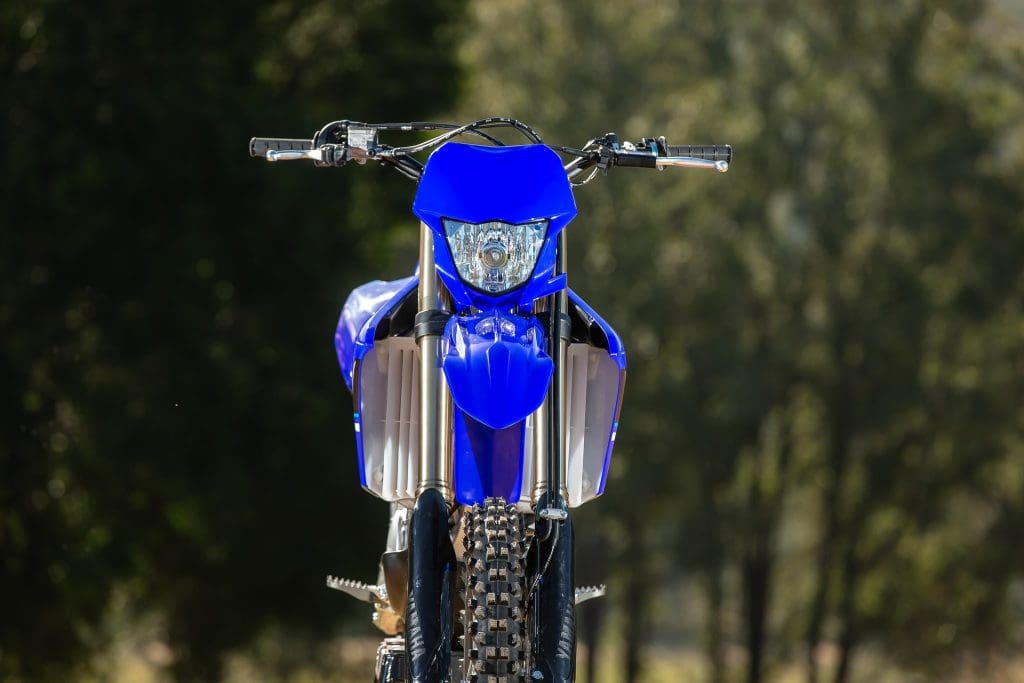 ---
2021 Yamaha WR250F Features
High-Tech Quarter-Liter Enduro Racer
The WR250F™ builds on Yamaha's exceptional motocross race platforms—the YZ250F™—with added features and unique settings designed to optimize the WR® for enduro riding.
Strong and Compact Electric Start Engine
A high-compression cylinder head, forged piston, aggressive cam profiles, cylinder geometry and much more work together to give WR250F riders a broad spread of useable thrust with excellent high-rpm power. All available with the convenient push of a button starting that features a compact starter motor system battery.
Advanced Alloy Frame
Yamaha's bilateral beam aluminum frame is derived straight from the YZ250F to centralize mass and provide an ideal balance between cornering feel and straight-line confidence.
Class-Leading Suspension
Yamaha uses KYB® spring-type forks on the WR250F, with industry leading functionality and easy tuneability for a wide range of conditions.
EPA-Compliant Emissions
Thanks to carefully balanced ECU tuning and a Forestry Service-complaint spark arrestor-type muffler, the WR250F is ready to go where you want, when you want.

Rearward-Slanted Cylinder Design
The WR250F's distinct rearward-slanted cylinder design—complete with rear exhaust and forward-mounted intake system—features a cylinder head that works with the frame geometry for optimized weight distribution. Inside, the engine features all of the updates found in the race-focused YZ250F: a straight intake tract, aggressive cam profiles, high-compression "box bridge" piston design with DLC-coated piston pin, and more.
Enduro Engine Tuning
WR250F-specfic ignition and fuel injection maps are optimized for enduro riding and racing, for exceptionally smooth and controllable midrange power with longer-lasting pulling power in the top-end.
Unique Intake and Exhaust Systems
The WR250F features a two-piece air filter that works in conjunction with the tuned intake tract length and a WR-specific muffler to boost the linear feeling of traction and drive. Not only is the WR250F muffler completely mechanical—eliminating the need to repack—it integrates a U.S. Forestry Service-compliant spark arrestor, too.
High-Capacity Radiator
The WR250F uses a large radiator with excellent cooling capacity shared with the YZ250F motocrosser, complete with a cooling fan for consistent performance during the toughest enduro rides.
Electric Starter System
The WR250F features a compact electric starter system to simplify restarts on the trail and add convenience everywhere else, powered by an ultra-compact lithium battery.
Advanced Fuel Injection
The engine breathes through a 44mm Mikuni® throttle body fed by a high pressure electric pump to ensure optimum fuel atomization and power for a wide range of riding elevations and conditions.
Robust Transmission and Clutch
The WR250F's wide-ratio 6-speed transmission is shared with the YZ250FX, providing the optimized gear for tight technical terrain as well as wide open fire roads. The clutch system has a specific friction plate combination for heat dissipation and easy clutch lever effort.

YZ250F-Derived Bilateral Beam Frame
Yamaha's refined aluminum frame provides high performance on technical, aggressive terrain sections as well as comfort for those long days in the saddle, with frame spars and engine mounts developed alongside the YZ250FX cross country racer to centralize mass for the best possible balance of bump absorption, stiffness and rider feeling.
Compact Body and Seat Design
The WR250F features stylish bodywork from tip to tail, including a large 2.15 gallon, mass-centralized fuel tank. The body design is narrow for more comfortable knee grip and control feeling while the seat gives the rider additional room to move aboard the machine. Even the rear fender is designed for added rigidity to make moving the machine easier.
Class-Leading Suspension
The WR250F's industry-leading, fully adjustable KYB® coil spring-type fork with speed sensitive damping provides exceptional balance between handling and bump absorption, with mid-speed valving tuned for improved feel at slower fork speeds.
270mm Front Brake
Large 270mm front disc brake coupled with aggressive pad material offers outstanding braking performance and machine control, with exceptional stopping power and controllability.
Cross Country Wheels and Tires
The WR250F features an 18-inch rear wheel to help prevent pinch flats and provide additional comfort across rough, broken terrain.

Enduro-Ready Detailing
The WR250F includes a range of enduro-specific upgrades compared to the YZ250F motocrosser, including a wide, full-coverage composite engine guard, 18-inch rear wheel, large 2.15-gallon fuel tank, radiator fan, sealed O-ring chain, fuel level and engine warning lights, steel rear sprocket and a high-mounted folding aluminum kickstand.
Multi-Function Enduro Meter
The display's Standard mode features the speedometer, two trips meters and clock functions, while Race mode features average speed, timer and trip functionality.
Compact Headlight Unit
The WR250F's updated headlight fairing and compact taillight unit centralize mass and improve the racy, agile styling of the machine.
Embedded Graphics
Yamaha's unique embedded graphics are built into the bodywork for extended durability, resisting both peeling and damage.

---
2021 Yamaha WR250F Photos
---
2021 Yamaha WR250F Videos
N/A
---
Links
Yamaha Motorcycles Official Websites
Sours: https://www.webbikeworld.com/2021-yamaha-wr250f/
2017 Yamaha WR250F Horsepower Specs and Review
Yamaha WR 250F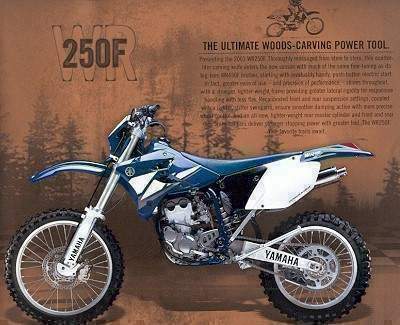 Make Model

Yamaha WR 250F

Year

2003 - 04

Engine

Four stroke, single cylinder, DOHC, 5 valve

Capacity

249 cc / 15.2 cu-in
Bore x Stroke
77 x 53.6 mm
Cooling System
Liquid cooled,
Compression Ratio
12.5:1
Lubrication
Dry sump

Induction

Keihin FCR-MX37 flat-slide w/throttle position sensor)

Ignition

Digital CDI
Starting
Electric & Kick
Clutch
Wet, multiple discs, cable operated

Transmission

5 Speed
Final Drive
Chain
Frame
Aluminium Bilateral Beam

Front Suspension

48mm Fully adjustable inverted forks
Front Wheel Travel
300 mm / 11.8 in

Rear Suspension

Fully adjustable link Monocross
Rear Wheel Travel
305 mm / 12.0 in

Front Brakes

Single 250mm disc 2 piston caliper

Rear Brakes

Single 240mm disc 1 piston caliper

Front Tyre

80/100-21

Rear Tyre

100/100-18
Rake
27.0°
Trail
115 mm / 4.5 in
Dimensions
Height 1275 mm / 50.2 in
Width 826 mm / 32.5 in
Length 2315 mm / 91.1 in
Wheelbase
1475 mm / 58.1 in
Seat Height
998 mm / 39.3 in
Ground Clearance
335 mm / 13.2 in

Dry Weight

106 kg / 233.2 lbs
Wet Weight
129.0 kg / 284.4 lbs

Fuel Capacity

8 Liters / 2.1 US gal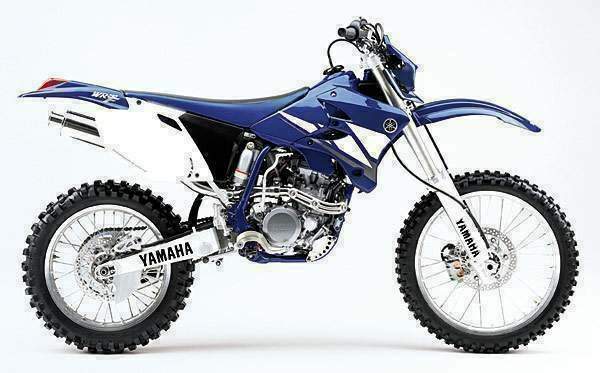 WR should stand for 'Weapons Ready' as Yamaha's new 4-stroke WR250F is one amazing weapon.
As far as 250 4-strokes go no manufacturer has an answer to the WR250, simple as that. Kawasaki's KLX250R, Honda's XR250R and Suzuki's DR250R would not see which way the WR went, they all weigh lots more than the Yamaha and their engines are positively anaemic when compared to the WR250F. This is the sickest little 4-stroke 250 ever.
It behaves itself quite well in the lower rpm ranges without too much carry on but get those revs up and the front claws skywards and the back breaks away, this thing goes like a 2-stroke Motocrosser! Redline on the water-cooled 5-valve engine is a dizzying 13,000rpm which for a 4-stroke single is simply unheard of.
To say I was blown away by the little WR is an understatement, I still can't believe that engine is only a 250. Hard on the throttle out of 2nd gear corners had the front wheel in the air and it was quite happy to stay there for another gear change or two, right through to top if you are game!
But where the opposition does hold advantages over the Yamaha are in practicality. The Yamaha has no locking system whatsoever, not even a steering lock which means if you park it anywhere somebody can simply kick start it and away they go. Insurance may be a problem when the companies cotton on to this.
This is of course where we come to the realisation that the WR is a race bike with lights, indicators and a side stand. The other 4-stroke 250s on the market can be used as commuters and even for some reasonable distance dirt touring but the WR is a hard core dirtbike with little room for practicalities. I would think that the Yamaha would also prove to be a fair bit more maintenance intensive than the competition, this is the price we pay for this much power from so little capacity. Premium unleaded is a necessity in such a highly tuned engine.
A wide ratio 5-speed gearbox takes care of the shifting with a minimum of fuss but neutral can be a little hard to find. This is the major mechanical difference between the YZ250F and the WR we tested here.
Kick starting from cold is easy but when hot it is another matter, I resorted to push starting at times. No doubt more time on the bike to learn it's intricacies would probably sort that out. The seat height reflects the hard core nature of the WR with the measurement coming in at just under a metre. Riders shorter than about 170 centimetres will have some problems here.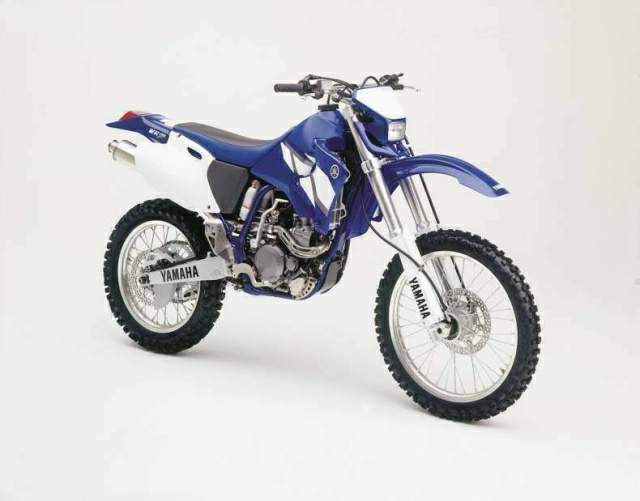 The suspension is excellent, however it must be said that I could not get anywhere near the limits of this bike. On a tight trail with a good rider onboard nothing would get too far in front of the Yamaha, no matter what the other machines capacity. In fact I think most people would be able to go faster on the WR250 than on its bigger cousins, I know I would.
Braking is very good for this class of motorcycle. Good feel and good strength, again I am comparing this to its opposition and not the huge and powerful stoppers fitted to sportsbikes. But too much stopping power can be hard to handle in the dirt.
To put it simply the Yamaha WR250F is not a practical bike to be using for your transport needs but put it in its natural environment, dirt, and the 250 4-stroke opposition haven't got a chance.
This bike will revolutionise the 4-stroke 250 dirtbike market. It is simply the biggest standout performer I have ridden this year. If I had to name my 'Bike of The Year' right now this would be it, simply because it absolutely annihilates anything else in its class. The WR puts out around 35% more power at the rear wheel than the other bikes in this class. It is also far lighter than the others. And anyway you look at it, that is damn impressive!
Source MCNews.au
Sours: https://www.motorcyclespecs.co.za/model/yamaha/yamaha_wr250f%2002.htm
Wr250f specs yamaha
Yamaha WR 250F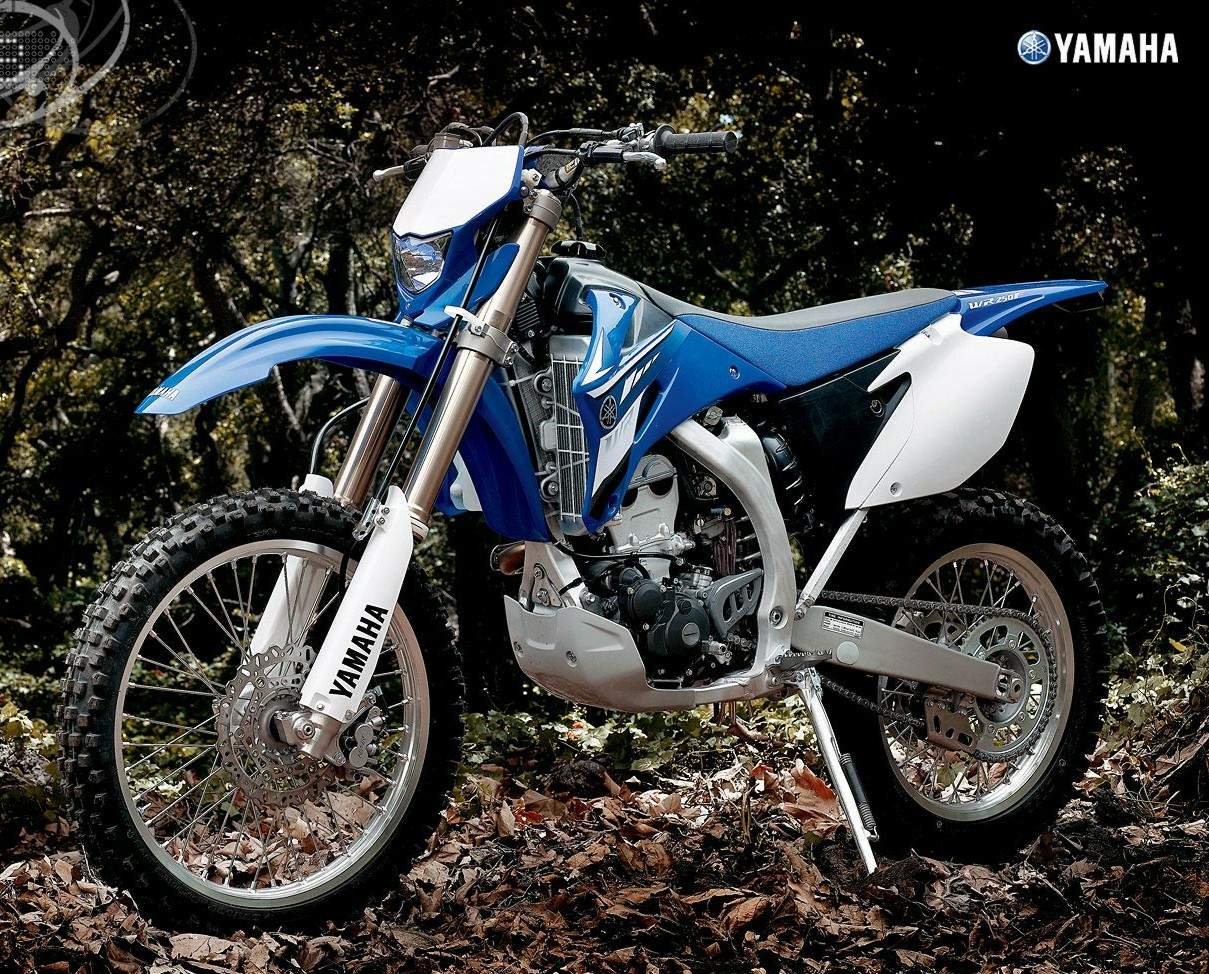 Make Model

Yamaha WR 250F

Year

2007 - 08

Engine

Four stroke, single cylinder, DOHC, 5 valve

Capacity

249 cc / 15.2 cu-in
Bore x Stroke
77 x 53.6 mm
Cooling System
Liquid cooled,
Compression Ratio
12.5:1
Lubrication
Dry sump

Induction

Keihin FCR-MX37 flat-slide w/throttle position sensor)

Ignition

Digital CDI
Starting
Electric / Kick
Clutch
Wet, multiple discs, cable operated

Transmission

5 Speed
Final Drive
#520 Chain
Frame
Aluminium Bilateral Beam

Front Suspension

48mm Fully adjustable inverted forks
Front Wheel Travel
300 mm / 11.8 in

Rear Suspension

Fully adjustable link Monocross
Rear Wheel Travel
305 mm / 12.0 in

Front Brakes

Single 250mm disc 2 piston caliper

Rear Brakes

Single 240mm disc 1 piston caliper

Front Tyre

80/100-21

Rear Tyre

100/100-18
Rake
27.0°
Trail
115 mm / 4.5 in
Dimensions
Height 1275 mm / 50.2 in
Width 826 mm / 32.5 in
Length 2315 mm / 91.1 in
Wheelbase
1475 mm / 58.1 in
Seat Height
980 mm / 38.6 in
Ground Clearance
335 mm / 13.2 in

Dry Weight

106 kg / 233.2 lbs
Wet Weight
129.0 kg / 284.4 lbs

Fuel Capacity

8 Liters / 2.1 gal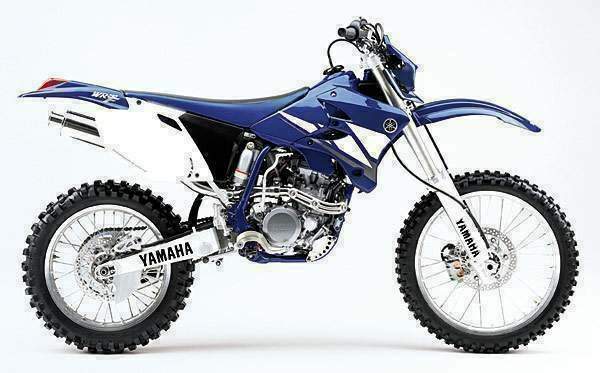 Tight woods or wide open terrain, the lightweight, compact 2008 Yamaha WR250F is ready to tackle any challenge you can throw at it. The combination of a smooth, powerful engine, a lightweight aluminum chassis with YZ based syspension and great brakes make the Yamaha WR250F an amazing off road performer.

Discover the beauty of balance -- For riders who favor finesse over brute force, the 2008 WR250F is the way to go off-road.

Based on the latest version of our YZ four stroke motocrossers, the WR250F features a lightweight aluminum frame and swingarm, stylish "slim line" bodywork specially designed to provide excellent rider maneuverability and YZ based suspension and brakes fore and aft.

We've even engineered the seat for enduro use, knowing that a rider will be in the saddle all day. Strong, dependable performance, all day rider comfort … just two of the keys to the WR's success.

FEATURES:

Liquid-cooled, 249cc, 5-valve, DOHC, 4-stroke powerplant with super light titanium valves is based on the current YZ250F engine design. The WR250F engine features different camshafts, ECU and exhaust system than the YZ250F for improved low to mid range power which is better suited to enduro type riding.

Super convenient electric starting means fast, sure starts. The electric starter is also backed up by a manual kick starter.

Hassle free automatic decompression system ensures fast restarts in any gear.

Convenient, handlebar-mounted hot start lever for easy restarts when the engine is hot.

Magnesium cylinder head cover helps reduce weight.

Optimized combustion chamber design provides the most efficient intake and exhaust flow for maximum engine performance

Titanium valves and load-reduced springs decrease weight by more than 40% over a conventional valve train and reduce reciprocating mass for faster-revving, smoother-hitting power delivery across the rev range.

Special cylinder design features cutaways that allow the air "trapped" under the piston to enter a side chamber (or cutaway) to reduce horsepower-robbing "pumping losses."

The crankcase also utilizes cutaways to reduce "pumping losses." The crankcase cutaways match the cutaways in the cylinder.

Dry sump oil tank is located in front of the engine between the frame tubes for protection. This design centralizes mass and reduces the centre of gravity for improved handing and a lighter feel.

The crankcase features a "tri-axis" design for the crankshaft, main and drives axles. This tri-axis design keeps the crankcases more compact while also centralizing mass for better handling. All of the shafts are positioned low in the cases to maintain a low centre of gravity for great handling and maneuverability.

Special "enduro focused" camshafts (intake & exhaust) provide outstanding low to mid range power well suited for off road use. The cam timing and event angle are different than the YZ250F.

Balancer shaft reduces vibration for improved rider comfort and reduced rider fatigue.

Lightweight crankshaft provides fast throttle response.

Lightweight, short-skirt, forged piston provides great durability and its lightweight design means faster engine response.

Oil volume in engine has been optimized to reduce weight and oil "drag" related power losses.

Compact design automatic cam chain tensioner reduces maintenance and mechanical engine noise.

37mm, Keihin FCR, flat-slide carburetor with TPS (throttle position sensor) provides excellent throttle response.

ECU features 3D ignition mapping to accommodate the engine power characteristics. The ECU provides optimal timing at all rpms for fast engine response.

Lightweight direct ignition coil is integrated into the plug cap to reduce weight and complexity

Wide ratio 5-speed transmission features gear ratios designed for enduro type riding and that match the engine power characteristics.

Heavy-duty clutch matches engine output and offers a light, progressive clutch feel with less lever effort for smoother shifting.

Quick-access, lightweight aluminum outer clutch cover allows fast, easy access to the clutch.

New stylish mat black finish on left & right side crankcase covers, oil filter cover and sprocket cover for improved appearance.

YZ based compact dual radiators provide optimum cooling and feature a re-enforcing bar to help protect the rads in the event of a tip over.

Washable, dual-stage, foam air filter can be accessed without tools via "Dzus-type" fasteners. The air box is secured to the frame via only one bolt for fast removal.

Lightweight exhaust system features a stainless steel header pipe with titanium heat shield, aluminum muffler and titanium rear cone. This system maximizes engine power and allows hassle-free replacement of the oil filter.

Lightweight aluminum wrapped muffler offers an 82 dba noise level (stock settings). This muffler features a "serviceable", screen-type spark arrestor which prevents sparks from exiting the exhaust.

Oversize race type "barrel adjuster" for easy, on-the-fly adjustability of clutch lever/cable play.

AIS (air induction system), located on front side of cylinder head reduces harmful emissions.

Lightweight, compact aluminum semi-double-cradle frame features a cast steering head while the remainder of the frame uses forged, pipe stock and extruded components. Yamaha has maintained the semi double cradle design to allow for "controlled flex" to optimize suspension action. This frame design provides a low centre of gravity for a light feel and razor sharp handling, plus less rider fatigue, and excellent stability.

Removable, aluminum rear sub frame constructed of square-section pipe reduces weight and provides easy rear suspension access.

Lightweight, tapered, aluminum swingarm is produced using "hydro forming"; a special forming method that uses high pressure water to form shapes.

48mm, adjustable inverted, Kayaba cartridge fork provide excellent suspension performance. Front wheel travel is 300mm (11.8").

Front fork adjustments include: 20-way compression damping and 20-way rebound damping. Optional fork springs are available through Genuine Yamaha parts.

Large plastic fork protectors wrap around the fork tubes for increased protection against dirt, mud and stone chips. These fork protectors are self-supporting to reduce friction for smoother fork operation.

Forged aluminum upper and lower triples clamp reduce weight and provide increased strength.

Adjustable forged handlebar mounts allow the handlebars to be moved 10mm rearward if desired.

High tech, lightweight, Pro-Taper aluminum handlebar with reinforcing crossbar and foam pad.

Monocross rear suspension system features a fully adjustable, Kayaba piggy back style shock with separate adjusters for high- and low-speed compression damping.

Shock adjustments include: spring preload, 20 clicks of low-speed compression damping, 2 turns of high-speed compression damping and 20 clicks of rebound damping. Rear wheel travel is 310mm (12.2").

Link-type rear suspension provides a rising rate (progressive) suspension function. The linkage design is virtually the same as YZ-f series of MX bikes.

250mm fully floating front disc brake with "wave style" rotor is squeezed by a twin piston Nissin caliper fitted with lightweight, aluminum pistons provides excellent braking performance. The pins that the disc floats on have been shortened to reduce weight.

"Shorty style" adjustable front brake lever.

245mm rear disc utilizes a lightweight "wave style" rotor. The Nissin single piston caliper and an integrated rear master cylinder (fluid reservoir is integrated into the top of the master cylinder to reduce weight) delivers strong, progressive stopping power with excellent control and feel.

New design rear brake lever provides excellent feel

Rugged, Excel 21" front and 18" rear rims provide exceptional durability and help reduce unsprung weight for optimal suspension performance.

High tech, lightweight digital meter assembly. This compact meter features: speedometer, dual tripmeters, odometer and a clock in the basic mode. Or in the "race mode", pace management functions such as timer, and distance compensating tripmeter.

Rugged "slim-line" bodywork is very similar to the YZ-F counterparts. This "slim line" bodywork allows fast, easy rider movements and a lighter overall machine feel.

Seat is based on YZ-F style but is wider with more padding for improved rider comfort during a long ride.

Stylish slim design front headlight is compact and offers 35 watts of lighting power. The headlight beam is adjustable up and down.

Slim design compact LED taillight is tucked out of the way to prevent damage

Revised 8 liter black plastic fuel tank is designed to allow easy rider movements. This revised tank features a special "fluorination surface treatment" which reduces fuel permeation for improved environmental protection. The fuel line and tank vent hose are made of "fluororubber" to also reduce the escape of fuel vapors into the atmosphere.

Lightweight aluminum kickstand is designed to allow lots of Ground Clearance.

Heavy duty one piece resin plastic engine guard. Only 3 bolts hold it in place for easy removal when washing the bike.

Extra wide 55mm stainless steel foot pegs provide excellent grip.

Premium Dunlop knobby tires

8-litre fuel tank with convenient on/off/reserve petcock for peace of mind

Serrated rear brake lever and folding shift lever tip

Rugged, plastic, lower rear disc and rear caliper protectors

New, sealed, low-maintenance 6 amp hour battery is gel-filled type to prevent leaks in the event of a tip-over.

Waterproof starter button and engine kill switch are handlebar-mounted.

Lightweight chain guide / support helps reduce chance of chain derailment. Also helps protect rear sprocket damage too.

Heavy duty rubber swingarm protector

Heavy duty "O" ring chain for durability
Review
The huge changes to Yamaha's '05 YZs might lead you to believe the motocross effort soaked up all the R&D, but it looks like there was plenty left for the off-road bikes as well. Yamaha's newly released WRs feature a slew of changes, both major and minor, aimed at creating lighter, more agile and more user-friendly machines. We got our grubby paws on the newly released WR 250 and 450 at California's Hungry Valley and immediately headed out for some bushwhacking.

The biggest changes Yamaha emphasized were a lowered center of gravity and lowered seat height for both the 250 and 450. WRs have a history of being tall and top-heavy, but the '05s are a marked improvementit looks like the chronic problem has been solved. The WRs now carry their (lighter) weight much lower. Yamaha raised the steering head tube, but the fork is the same length, so the engine and more importantly the crankshaft are carried lower. Plus the shock is 3mm shorter, which balances out the bike and makes it lower overall compared to 2004. Overall, the seat height was decreased by 10mm on the 250, and 20mm on the 450. YZ shrouds and radiators complete the package by slimming down both bikes. Both models were much more willing to change directions in tight conditions. It was much easier to get leaned over in corners and maneuver through thick, tight brush.


2005 Yamaha WR450 features... read full caption
2005 Yamaha WR450 features more refined power, giving it easier roll-on.We didn't actually test the bikes in showroom stock condition. We replaced the WR throttle stopsthat limit the throttle opening to about halfwaywith YZ units that allow full throttle travel. We also removed the new-for-2005 tiny end baffle and unplugged the grey wire under the tank, since that was the way we rode our 2004 bikes, and it was the most equal comparison. The WR250F received an increase in power while the focus on the 450 was to refine its big power for easier roll-on. The 250 has more bark and decent bottom-end grunt, but best showcases its new power on the top endit screams. The 450's bark was partially calmed by reducing the compression ratio. It still has big power, but now comes in a more manageable package. The lower center of gravity coupled with the smoother low-to-mid delivery made huge improvements in the 450s agility.

The WRs received new 48mm forks, although not the same KYB fork as the other '05 blue bikes. The beefy new front suspension is much more rigid than the plush feel of the '04s. With the stock settings, the front end was too stiffpushing in sand washes and dancing around on rocks or bumpy hard-pack. We softened up the compression between two and six clicks depending on the size and speed of the rider. We also went out two clicks on the fork rebound. The action of the fork and the steering precision of the bike is very closely tied to the sag. You'll want to be careful to set it between 100 and 105 millimeters. The shock soaked up chop fairly well, and pounded through whoops better than ever.


The WR450 is now green sticker... read full caption
The WR450 is now green sticker legal; anticipate the same for the 250 in '06.Yamaha also addressed EPA an CARB regulations in their re-design. The new USFS-approved aluminum exhaust with spark arrestor is Federal noise level legal at 82dba. With the baffle out, it still registers under 96dba, meeting California regulations. The 450's newly designed air induction system also makes it green-sticker ready (a much-welcomed change for Californians tired of being shut down the instant rangers catch a glimpse of blue plastic). Expect the 250 to be green sticker-able in '06.

Look for the full test on both Yamaha WR's in the February issue of Dirt Rider Magazine.

Source Dirt Rider
Sours: https://www.motorcyclespecs.co.za/model/yamaha/yamaha_wr250f%2007.htm
Bike Test: 2020 Yamaha WR250F Review
.
You will also like:
.
391
392
393
394
395