10 Dog Crafts Projects That Are Easier Than You Think
Last updated:
by Jessi Larson
After a year and a half in our "new" house, my husband and I are FINALLY getting around to decorating. Sure, we've arranged things how we like and put up a few prints that we each had at our former houses. But our home is lacking the character and warmth that photos and personalized decorations like these dog crafts can bring.
I've been spending a lot of time on Pinterest for inspiration. And I've noticed that there are many cool – and easy – projects with a dog theme. As a dog lover, I'm all in for these dog crafts!
Here are the 10 best dog DIY projects you can do today with little to no crafting ability. Which is excellent, because when it comes to crafts, I'm a hot mess!
1. DIY Framed Paw Print
Found at Southern Wag Pet Accessories
This craft project is simple and creates a perfectly personalized piece for your house. You dip your dog's paw in non-toxic ink, place it on a piece of paper, then wash the paw right away. From there, it's a matter of mixing different prints and paper to find a combo that's right for the room.
2. White and Gold Pawprint Christmas Ornament
Found atDogvills
Looking to add a little personalized pizzazz to your Christmas tree? This easy-peasy project is a great way to commemorate your dog while celebrating the holidays.
3. Dog Paw Print Flowers
Found at Party Pinching
You gotta love this lovely craft project. Yes, it includes a pawprint but with a beautiful, creative twist. As far as difficiculty goes, this is actually much easier than you'd think.
4. Custom Locket of Your Pet's Print
Found at A Thrifter in Disguise
A locket or keychain with your dog's pawprint is the perfect way to keep your dog close at all times, especially when they've passed away and aren't here physically anymore. Use computer software to shrink down the paw and experiment with different types of jewelry to create something that fits your taste and style.
5. Dog Print Picture Frame
Found at So Not Donna Reed
This is the last pawprint project, I promise! The project above from So Not Donna Reed is a clean, modern way to showcase your beloved furbaby in your home.
6. Pets on Parade Silhouette
Found at Better Homes & Gardens
How cute is this artwork? And the best part is you can create these in the form of the dog or dogs in your life. Simply print out a photo of your dog at a side angle and trace that form onto fabric. Voila!
7. Custom Pet Silhouette Pillow Cover
Found at Positively Splendid
Since we're talking about pet silhouettes, another idea is to transfer their image onto a throw pillow. The tutorial from Positively Splendid shows you exactly how.
8. Easy DIY Dog Lover Coasters
Found at Spencer the Goldendoodle
Call me uncouth, but I never knew the importance of coasters until I reached my 30s and started buying better quality furniture, not just $10 IKEA specials. Now we use coasters all the time.
With that in mind, this might just be my favorite project on this list. You simply take birch wood disks (available at Michael's and other craft stores) and use stencils to paint on fun dog-themed shapes. That's it!
9. Upcycled Dog Treats Jar
Found at Suburbia Unwrapped
Most people keep their dog treats either in the box or in boring plastic containers. Jazz it up with this DIY dog treat jar! It's super easy to do and adds a nice bit of flair to the kitchen.
10. DIY Dog String Art
Tutorial by AsthaBisani
When it comes to difficulty level, the projects above could be classified as beginner. This one is a tad tougher. But still a very doable project. Watch the video tutorial for more info.
So which project floats your boat? Any one you'd like to try?
Jessi Larson
Jessi is a marketing strategist for Fortune 50 companies who loves to research and write about all things dog. She is the proud mom to Toby, a giant Labrador Retriever who thinks he's a lapdog. He inspires her to be a better pet parent and to share advice with other dog owners.
Check out more articles about:
Sours: https://www.mydogsname.com/10-dog-craft-projects-that-are-easier-than-you-think/
Four-Legged Love: 10 DIY Ideas That Honor the Special Paws in Your Life 
Dogs are often more than just our companions; they are our best friends, family members and closest confidants! Their presence is an enrichment to our lives and it's only fair that we show them some extra love by engaging into fun DIY projects that honor their playful spirit and their cute little paws! You'll see what we're talking about when you check out these 10 DIY paw print crafts! 
1. Paw Print Wall Art 
VIEW IN GALLERY
Teach your pooch a simple trick of stamping their paw onto a paper and turn it into a beautiful wall art! The process of crafting is just as important as the end result – have fun, make sure your dog is enjoying it and create unforgettable memories together! Visit Decor by the Seashore to learn more about this paw print wall art.
2. Paw Print Christmas Ornament 
VIEW IN GALLERY
Christmas is going to be here before you know it and it's only right that your dog gets a place on the Christmas tree as well! Crafty Morning has an amazing idea for creating a totally unique paw print Christmas ornament that is going to be everyone's favorite piece this year without a doubt.
3. Paw Print Carved Pumpkin 
VIEW IN GALLERY
When you're making jack-o-lanterns this Halloween, don't forget to make one for your dog too! It might not be the most scary carved pumpkin, but it's definitely going to earn you many points with the neighborhood's kids. Discover the details at Heartprint Pets!
4. Three Ingredient Paw Print Ornament 
VIEW IN GALLERY
Ornaments are always good to have on hand, not just on special occasions and festivities but in the daily life as well when we're decorating our home out of pure passion and giving gifts to our loved ones. Collectively Christine has a lovely idea for a paw print ornament that only requires three ingredients!
5. Paw Print Canvas Art 
VIEW IN GALLERY
One of our favorite things about dogs is their childlike personality. They love to run, play and be messy without any worries! Schedule a messy day with your pooch this week and help him create a big paw print canvas art. Once completed, it's going to be the most precious piece on your wall! Find out how Treats a la Bark conquered this project!
6. Framed Paw Print 
VIEW IN GALLERY
If your walls are already full and don't need any more decoration, a framed paw print art is the next best thing. You can make several framed paw prints, each in different color, in case you have a multiple-dog household! Southern Wag Pet Accessories was kind enough to share the whole process.
7. Crochet Paw 
VIEW IN GALLERY
It's time to put your favorite crochet hook to work again! Mary J. Handmade has a simple tutorial for an adorable crochet paw that is the perfect project for those who love the sound of paws running up and down the house! It's the little things that we cherish the most, no?
8. Paw Patrol Badges 
VIEW IN GALLERY
Children generally adore dogs which is why Thrifter in Disguise's paw patrol badges are just the crafting project you'll need for your little one's next birthday party! Encourage the kiddos to create their own badges that are proudly displaying paws and so pronounce them as guardians of all dogs in the neighborhood!
9. Paw Towel 
VIEW IN GALLERY
Puppy paws don't just look cute, they also need a lot of care and nurture, especially during the cold and wet months. When your pooch comes back from the walk with muddy paws, you'll want to clean off the dirt to avoid a messy house and an unhappy pup! American Kennel Club shares the tutorial for a personalized DIY paw towel!
10. Paw Print Treats 
VIEW IN GALLERY
Do you like to spoil your dogs with homemade dog treats? Make them by Martha Stewart's recipe and give them a classic paw print look! It's a good idea to label them as "dog treats" after they're done, to make sure your family members don't accidentally eat them. They look so incredibly delicious, nobody would blame them!
Sours: https://wonderfuldiy.com/diy-paw-print-crafts/
Looking for a fun and creative way to do something for your sweet pup as a member of the family? There are so many great handprint and footprint craft ideas for kids, what about doing something similar for them instead of just taking a portrait of Fido and framing it? The paw print flower art may be the answer. Our pets live drastically shorter lives than we do, and paw print crafts are the perfect way to immortalize our relationship with them. Here are 10 Easy Dog Paw Print Craft Projects you can try out.
The technique is simple for paw print flower art. You use paint and your dog's paws in order to create lovely flower petals on a canvas. They don't even look like dog prints but real flowers petals instead. If you want a change, you could make all different colored flowers for each different dog you have! The result will be far more sentimental and memorable since it involves your pet in a deeply personal way. Do these at different intervals in your puppy's life to see how she's growing, or have a fun afternoon crafting a few as future mementos.
You can also try other projects, but be gentle with your pet's feet and clean them afterward, and then you can both enjoy the reminder of your friendship.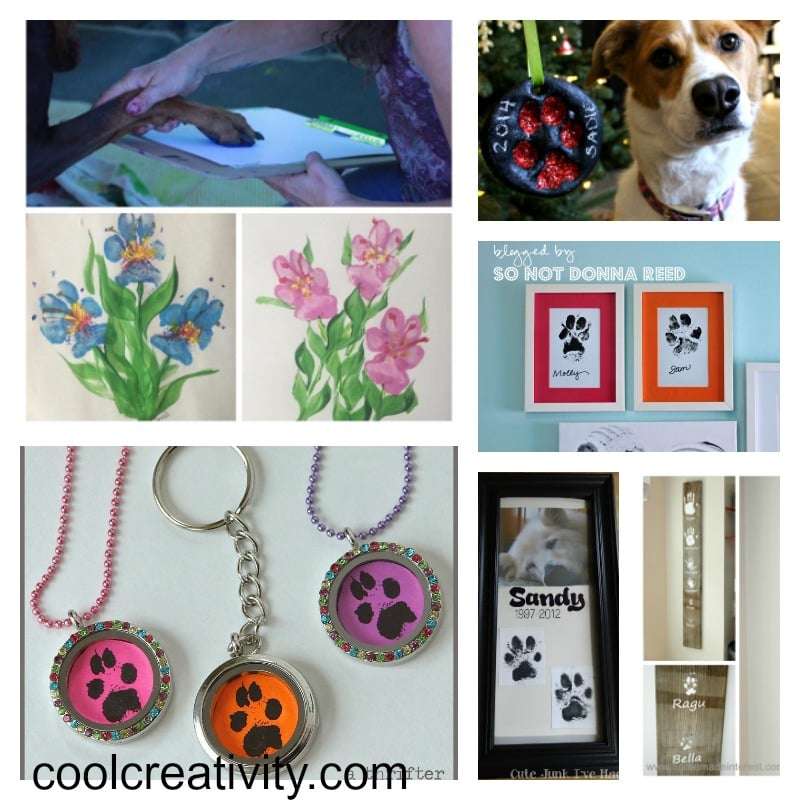 1.Paw Print Flowers. 
Tutorial via: Party Pinching.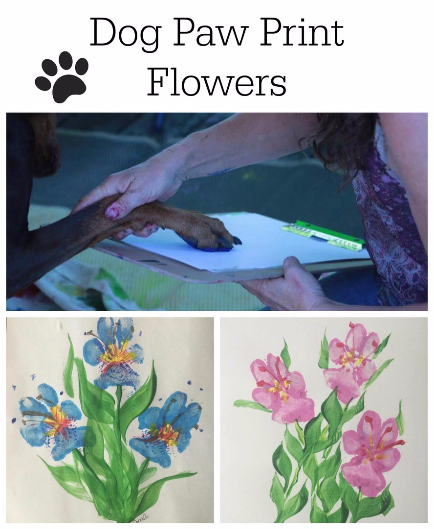 2. Salt Dough Puppy Paw Print Christmas Ornament
Tutorial via Crafty Morning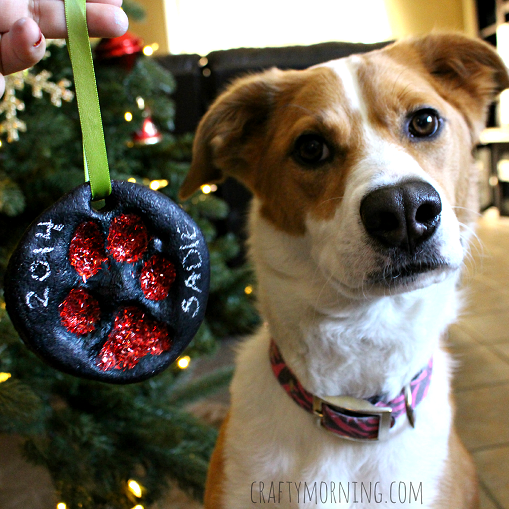 3.Stepping Stones with Pawprints
Tutorial via Craft Night with Stacy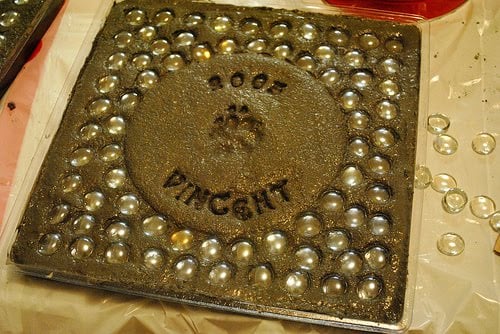 4.Paw Print Art
Tutorial via Treats a La Bark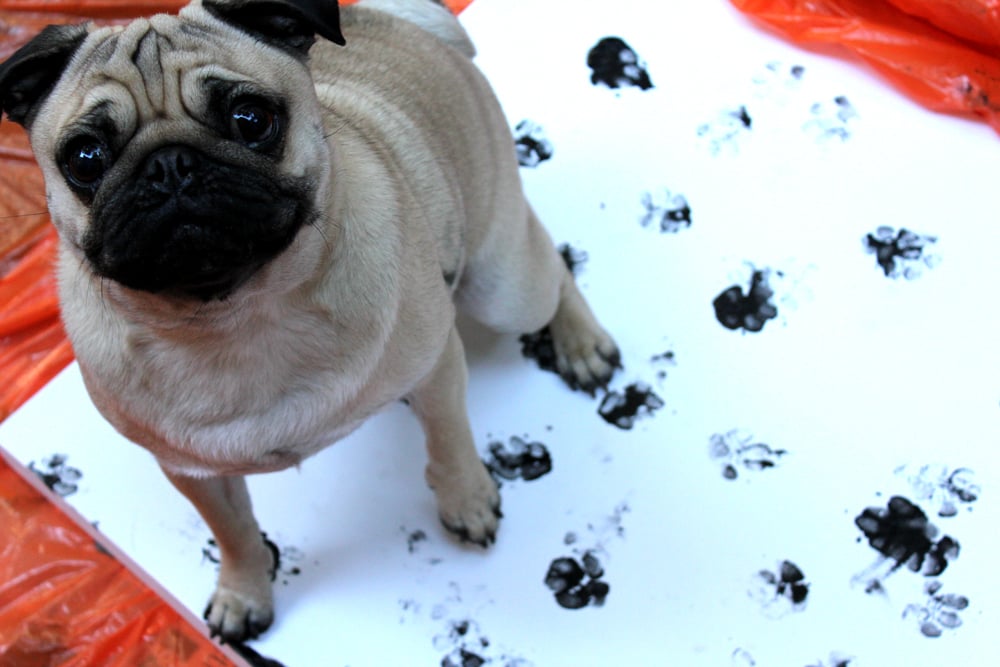 Sours: https://coolcreativity.com/handcraft/easy-dog-paw-print-craft-projects/
HOW TO MAKE A PAW PRINT PHOTO KEEPSAKE OF YOUR DOG
Paw Print Flowers
I came across this great idea on social media (If you happen to know who took these photos, please email me – I'd love to give proper credit for the pics!)
This is a super cute craft you can do with your willing furbabies. Please don't force your pet to participate.

Paw Print Flowers

1.  Place your pet's paw in pet-safe paint. Click here to see safe paint info for your pet.
2.  Gently press your pet's paw onto a piece of paper or canvas.
3.  Wash the paint off of your pet's paw. Give your furbaby a treat and a smooch.
4.  Paint some stems, leaves and details in the middle of the paw flower.
A cute idea for Mother's Day – Paw print flowers!
Paw Print Flowers are pet friend and fun for dogs!

Check out Party Pinching's other party ideas by clicking on the link below:

https://partypinching.com/category/other-parties
Sours: https://partypinching.com/paw-print-flowers/
Paw crafts dog
Puppies and Dogs are the best fur friends for us, their royalty and companion for family has made themselves been a family member. We have some ways to show our love and care to them, and paw print crafts our Craft Channel is going to share today will be one of the perfect way to present our relationship. We can keep tracking of puppy paws as they grow at different intervals to make these crafts with kids as well as family members. Be gentle with your loved puppies, use safe paints and clean them afterward, we sure you will enjoy the fun and happy time as well as the reminder of friendship in their lifetime.
You May Also Love:  10 Crochet Amigurumi Puppy Dog Free Patterns
01. Puppy Paw Print Wall Art
The most direct way is to print puppy paws on paper or canvas. eHow has a great article to choose Safe Paints to Use for Making a Dog Paw Print that worth reading before we start our own project.
Image and Instructions: The Hamby Home & Decor by The Seashore
Tweet Around:
02. Paw Print Salt Dough Ornament
While salt dough is easy and safe for puppies to get involved in holiday decoration.
Image and Instructions: Crafty Morning, Caught On A Whim
02. Puppy Paw Print Flower
Paint your puppy paws with safe and washable paints and create beautiful flower petals on a canvas.
Image and Instructions: Party Pinching; Crafty Morning
04. Puppy Paw Print Pumpkin Lantern
Carve a Howl-O-Lantern with your puppy paw as mold, this can be fun with plastic or real pumpkins in Halloween.
Image and Instructions: Great Wolf Blog; Heart Prints Pets & Easy Free Patterns
05. Paw Print Stepping Stone
Make a garden stepping stone to memorize your puppies with concrete and rocks. If you want to make stepping stones with cake pan, there are some step by step instructions available, too.
Image and Instructions: Brenna Emes on Pinterest & Learn 2 Grow
Sours: https://www.diyhowto.org/diy-puppy-paw-print-craft-ideas/
Be Paw-sitive! Cute Pet Hacks and More DIY Crafts by Blossom
As dog parents, it seems as though our lives revolve around constantly taking pictures of every little cute thing our dogs do. Is your puppy carrying a stick twice his size? INSTAGRAM IT. Is he tracking his cute little dog paw prints all over your white carpet? SNAPCHAT IT. And while these are great ways to capture fond memories, wouldn't you like something a little more lasting and creative?
That's where DIY dog paw print crafts come in. Using pet-safe materials, you can create beautiful crafts that help you commemorate your love for your pet in a lasting and sentimental way. You can d

o these at different intervals in your puppy's life to see how she's growing, or have a fun afternoon crafting a few as future mementos.

Plus, they make great gifts for all of the people who care for your dog throughout the year: namely, your dog walkers, sitters, trainers, doggy day care maestros, even your dog groomer!
Pro tip: Since most of these activities involve some kind of pet-safe paint or gooey substance, I highly recommend that you do all of them outside. That way, your pet's prints are only on the artwork, and not on your living room floor. Plus, doing these outside will allow for easy cleanup for you and your dog when the time comes to wash off the plaster, paint, sand or ink.
1) Salt Dough Paw Print Christmas Ornament by Crafty Morning
Your "Santa paws" will be the star of your holiday decorations with this easy ornament from Crafty Morning. You can make one to commemorate the year, or do a series of them in different colors for an art project that will rework your Christmas decor. Best of all, you've probably got all the ingredients in your kitchen right now.
Like this idea? Get the step-by-step instructions here.
2) DIY Paw Print Stepping Stones by Learn2Grow
Your pup probably loves roaming the great outdoors (or your backyard, at least), so this eye-catching art project from Learn2Grow would be a great addition to your outdoor living space. Personalize each piece with your dog's name, the year or a special quote. Then, add colorful glass mosaic pieces to coordinate with your lawn furniture.
Like this idea? Get the step-by-step instructions here.
3) Paw Print Wall Hanging by Treats à la Bark
If you think your dog is the next Picasso, then this project from Treats à la Bark is for the two of you. The supplies are simple — paint and white paper — but the impact of the final piece is huge. The scattered paw prints become modern artwork that will fit in with any décor.
Like this idea? Get the step-by-step instructions here.
4) Paw Print Pendant by A Thrifter in Disguise
Your dog has your entire heart, and this personalized pendant from A Thrifter in Disguise will always keep him right next to it. Using a clear locket, colored paper and ink, this necklace is so easy to make that you'll be showing off your dog's keepsake in no time.
Like this idea? Get the step-by-step instructions here.
5) Family Hand Print Plank by Home. Made. Interest.
Get everyone in on the fun of creating this piece of artwork from Home. Made. Interest. Using a long piece of wood and some paint, you can showcase the prints of entire family — both the furry and human members. Write names under each hand or paw print for additional personalization.
Like this idea? Get the step-by-step instructions here.
6) Framed Paw Prints by Pretty Fluffy
For a simple and clean piece of artwork appropriate for any room in the house, try these framed prints from Pretty Fluffy. Experiment with different frame styles and paper backgrounds to get the perfect picture. If you have multiple fur babies, combine their prints on the same paper and write their names under each.
Like this idea? Get the step-by-step instructions here.
If you want to add another visual layer to the framed dog paw print craft, try including a picture of your pup, like in this sweet memento from The Doeblerghini Bunch. This is a great way to display those professional pictures you've got lying around.
7) Dog Paw Print Flowers by Party Pinching
If you're looking for a more subtle way to incorporate your dog's paw print into a piece of art, try out this great project from the Party Pinching blog. All you need is pet-safe paints (check out this guide for selecting pet-safe paints, or you can make your own), a canvas or piece of paper, and your dog's paw. (Who knew dog paws could look like flowers to begin with?!) Go the extra mile by picking out a nice frame that either matches or complements the colors of the flowers.
This is a great gift idea for Mother's Day, or one of those "just 'cuz" gifts for any flower-lovers in your family!
8) Paw Print Sand Shadow Box by Kol's Notes
Your pup loves the beach, so make this sand-themed shadow box from the Kol's Notes blog as a way to remember your fun times there together. Press your dog's paws into the sand firmly before casting it in the plaster. The end result is stunning. Add sea shells, sea grass or sea glass that you've collected to make this one-of-a-kind piece even more special.
Like this idea? Get the step-by-step instructions here.
Originally written by Natalie Vereen-Davis. Updated by Katie Bonadies on 22 June 2017.
Sours: https://www.care.com/c/8-easy-diy-dog-paw-print-art-projects
You will also be interested:
.
373
374
375
376
377