Story and photos by Kaylee Winter, Courtesy Photos by Julia Saleski, Julia Locricchio
With football season here, everyone is looking for the perfect tailgate outfits. Why go out and spend money on apparel when you can just make your own shirts for much cheaper? Here are some quick and easy DIY outfits for this upcoming tailgate.
To start off simple, get a shirt that is a few sizes bigger than your usual size. Figure out how short you want it and simply just cut the shirt in the middle to give it a flowy crop-top look. You can do this look with t-shirts, long sleeves and hoodies.
For a tighter tube-top look, get a shirt that has a CMU logo on it. Cut the top part of the shirt off, right below the sleeves so that it becomes sleeveless. Then, cut the bottom of the shirt off, depending on how short you want it. By doing this, it leaves you with just the middle part of the shirt that contains any logos. Afterwards, lay the shirt down on a flat surface and on the left and right sides under your arms, cut the shirt in half on both sides all the way down going vertically. Then, lay the front and back pieces on top of each other and make sure that they line up evenly. After the two pieces are lined up, cut about 8-10 horizontal pieces on each side that are about 2-3 centimeters long. Tie and double knot each of the horizontal cuts that you just made and once that is done, your tube top will be complete.
If you're not a big arts and crafts person, all you need is an iron-on CMU logo. For this look, all you have to do is use a plain white shirt (or any other color if you chose) and iron on the logo where you want it placed on the shirt.
Make the most and save the most out of your football season and DIY your own super cute and cheap outfits.
Sours: http://gcmag.org/diy-outfits-for-tailgate-season/
Growing up down the street from the largest football stadium in the country, my fellow Fashionistas and I love a good tailgate. Over the years, we have seen many tailgate outfits so we thought we should share two of our favorite DIY styles that anyone at any college can try.
All you need for each style is a T-shirt, a pair of scissors, a marker, fabric glue, and any extras you may want to personalize your T-shirt. I'm going to use a pair of shoelaces, lace, and bleach to spice up my shirts.
Stay tuned below to find out ways to turn a basic college T-shirt from drab to fab!
Each of these shirts can be paired with your favorite jeans and sneakers.
1—Lace-Up Sides. This shirt is a classic cutie. You will need a pair of scissors and shoelaces. First I trimmed the hem of my shirt to turn the T-shirt into a crop style shirt. Next, I cut the sides of the shirt to my desired length for the lace up sides. After you have cut the sides you will make holes along the length that you will lace the shoelaces up in. For my style, five sets of holes worked perfectly. Lastly, you will lace up the shoelaces in the holes and tie them at the bottom.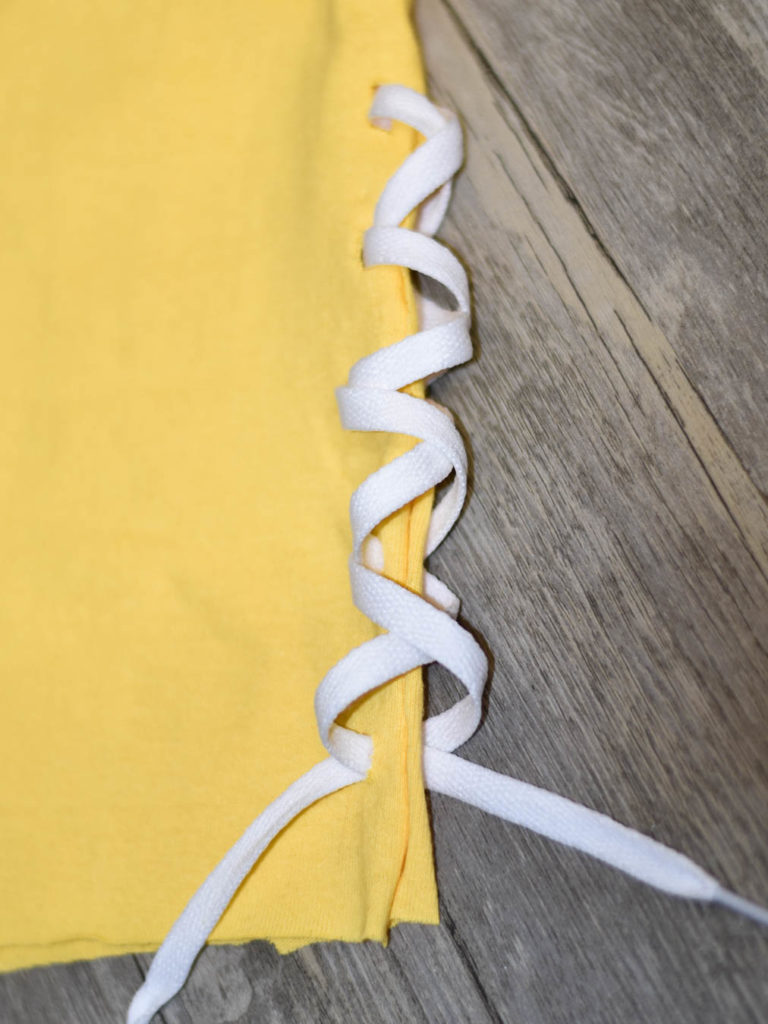 2—Lace Trim. This style turned out to be one of my ultimate favorites. Start by taking a marker to indicate a horizontal line where you would like to place the lace. Once you mark the spot, measure out enough lace for the length of the shirt, front and back. Using fabric glue, apply it along half the length of the lace. Once the glue is applied gently place it on the front half of the shirt. Let it dry for 15 minutes. Once the front has dried, repeat gluing and applying the lace onto the back of the shirt. After the back has dried you are left with a super rad top!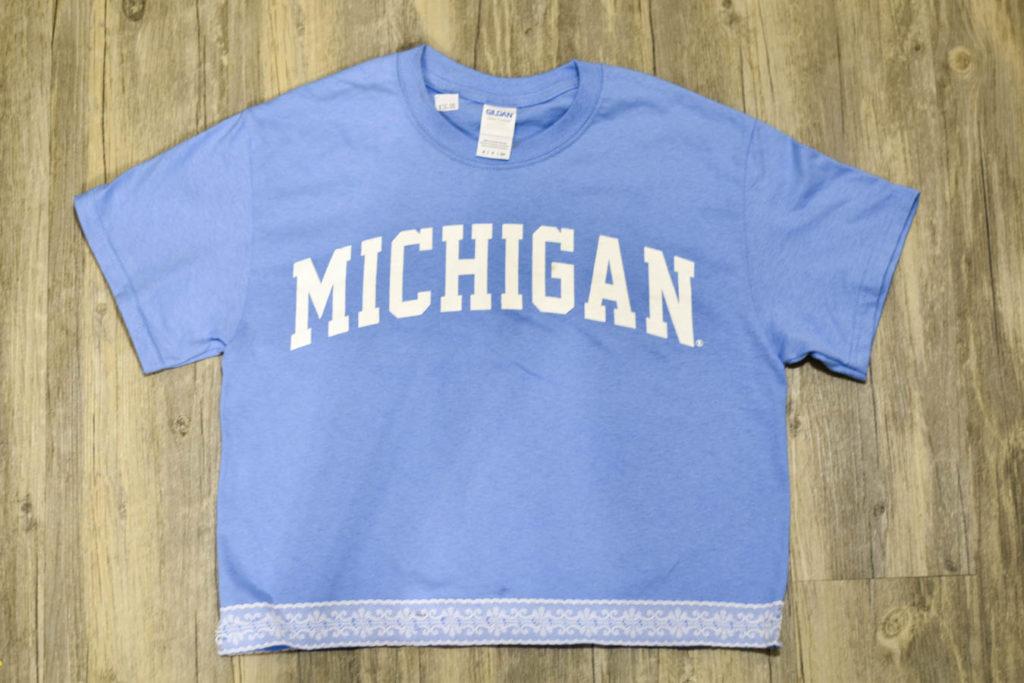 I would love to see what kind of tailgate tops you and your friends come up with. Don't forget to tag @CFashionista in all your posts! 
Sours: https://www.collegefashionista.com/diy-tailgate-tops-try/
#StyledByGoodwill: DIY Tailgate Fashion
The big game is just around the corner! If you are looking for some last-minute fashion inspiration, check out these tips for turning a regular t-shirt into a cute, customized top. Supplies needed: T-shirt, scissors, pencil, ruler or straight edge.
Cute & Cropped
Instructions:
Try your shirt on and mark your desired length with a pencil. (It's better to start on the longer side – you can always make it shorter!)
Use a ruler or other straight edge to draw a line across the shirt.
Use sharp scissors to cut on the line you drew.
Cuff your sleeves twice and, voila – adorable!
*Pro Tip: We think this style works best with an oversized t-shirt!
All Tied Up
Instructions:
Cut the collar and sleeves off your shirt. Be sure to cut the seams completely off, but follow them closely as you cut.
Try the shirt on and mark where you want your knot to be at the end – ours is approximately 6″ from the bottom hem.
Measure to the same spot on the back of the t-shirt and draw a line across the back – DO NOT mark this line on the front of your shirt.
Cut across the line you marked on the back, but do not cut the front. Cutdown the sides of the shirt, and discard or recycle the rectangle of fabric that you just cut off the back of the shirt.
Cut the bottom hem off the front of your shirt, and cut straight up the middle to the mark you made for the knot.
Cut diagonally from the bottom of that center cut to each side seam. You will end up cutting out two triangles of fabric after making these cuts.
Put on your shirt and tie the little tails into a knot!
Cold Shoulder
Instructions:
With a pencil, mark a semi-circle on the left shoulder on the front side of the shirt. We recommend spacing your cold shoulder hole at least 1 inch from the neckline of the shirt.
Mark this semi-circle on the back side of the left shoulder.
Repeat steps 1 & 2 on the right shoulder.
Cut out the semi-circles.
Cut the bottom hem and tie your shirt at the side if you choose!
DIY Workshop Event
Thanks to everyone who came out to our Ames store this Wednesday for our DIY Tailgate Top Workshop! We had these DIY instructions available, and we had racks FULL of Cyclone and Hawkeye gear for fans to stock up on.
Share your Goodwill game day outfits with us on social media by tagging Goodwill of Central Iowa and using #StyledByGoodwill!
Continue Reading
5 Tips for Reselling Secondhand Items
kdelaney |
The Best Times of Year To Job Search
kdelaney |
How to Make a Stellar LinkedIn Profile
kdelaney |
Sours: https://www.dmgoodwill.org/thrift/styledbygoodwill-diy-tailgate-fashion/
How To Make Your Own Penn State Tailgate Tees
.
Shirt diy tailgate
.
4 DIY One Of A Kind Tailgate Shirts + Lace Up and Zip Up Tees! - Cassie Araujo
.
Similar news:
.
314
315
316
317
318