SANNO Freezer Baskets Refrigerator Freezer Baskets Bin Wire Metal Storage Basket, Modern Farmhouse Metal Large Storage Organizer Bin with Built-in Handles for Pantry, Shelf, Kitchen, Cabinet, Bathroom, White,2 Baksets
200 ratings Write a review
Item #:
RUB2137
This product is not Fulfilled by Ubuy and can take minimum 10 days in delivery. We might cancel the product from the order and refund you if any issue arise with the delivery of this product.
Note: Electronic products sold in US store operate on (110-120) volts, a step-down power converter is required for the smooth device function. It is mandatory to know the wattage of the device in order to choose the appropriate power converter. Recommended power converters Buy Now.
---
Product Details
Approximate Dimensions:15.7in(L) x 7.9in(W) x 5.9in(H)Made of strong steel wire with a durable rust-resistant white coat; Easy Care - Wipe clean with damp cloth.You will get 2 baskets.
PORTABLE: Bins feature easy-carry handles that are built right in to make it simple to transport goods from pantry to shelf to table; Just grab and go; The perfect storage and organizing solution for modern kitchens and pantries; Perfect for snacks, drinks, fruits, vegetables, pastas, soups, canned goods, bottles, cans, cookies, seasoning and flavor packets, macaroni and cheese boxes, pouches, jars, bread, baked goods and many other kitchen pantry items
FUNCTIONAL & VERSATILE: Organize kitchen essentials; Great for dry goods and other kitchen items such as: towels and kitchen tools; These also work in the refrigerator or freezer; Classic open wire design offers roomy and easy storage for any room in your home; Use multiple bins side by side for larger spaces or use them individually; Try these in closets, bedrooms, bathrooms, laundry rooms, craft rooms, mudrooms, offices, playrooms, and garages; Ideal for dorm rooms
MULTIPLE STORAGE OPTIONS: The perfect solution for organizing a multitude of household items - such as video games, toys, lotions, bath soaps, shampoos, conditioners, linens, towels, laundry needs, craft supplies, school supplies, files and more; Use this multi-purpose basket anywhere you need to add storage and get organized;
When you buy through SANNO, we will provide you with professional customer service both before and after your purchase and you could also get our 30-day risk-free guarantee. And don't forget our lifetime customer support!
| | |
| --- | --- |
| Package Dimensions | 16.1 x 8.03 x 6.77 inches (40.9 x 20.4 x 17.2 cm) |
| Item Weight | 2.14 pounds (0.96 kg) |
| ASIN | B08H83J85J |
| Color | White |
| Material | Metal |
| Brand | SANNO |
| Room Type | Kitchen, Bathroom |
| Handle Material | Metal |
Description
SANNO Freezer Baskets Refrigerator Freezer Baskets Bin Wire Metal Storage Basket, Modern Farmhouse Metal Large Storage Organizer Bin with Built-in Handles for Pantry, Shelf, Kitchen, Cabinet, Bathroom, White,2 Baksets
Customers also viewed these products
Customer Questions & Answers
Question: If you used these in the bottom freezer of a french door refrigerator, are you finding them to be a good choice? thanks

Answer: I bought these for an upright freezer that I have in the garage and they work great. I do have a French door refrigerator....for the bottom freezer I bought the clear plastic shoe boxes (but don't use the lids) and put things in those and can stack them two deep. It has worked very well and I don't have to "dig around" for my frozen items. I use four on the bottom (in the middle and right side, but left the left side open for larger frozen items, and also use two on the top pull out beside my ice bin (I chose a French door without ice in the door). Hope this help
Question: Can these be wall mounted? Thinking of using them as book holders in kids room

Answer: They could be but they are not designed for that application. Not sure what you'do use to secure to the wall. I would recommend that they be fastened in the same location as your stud in the wall for stronger support.
Question: Is the 7.9" width measured at the top of the basket (wider part) or the base (narrower part)

Answer: The top of the basket is 7.9 and wider than the base.
Question: Are these stackable?

Answer: No. They do not stack. I really like the size as I have a small chest freezer but the baskets nest when empty so will not stack.
Customer Ratings
109 customers ratings
5 Star 80%
4 Star 12%
3 Star 5%
2 Star 1%
1 Star 1%
---
Review this product
Share your thoughts with other customers
Customer Reviews
Ly•• •• S
October 8, 2021
Just did not fit in my freezer
I wanted it for my small freezer, did not fit.
Lu•• ••en
August 28, 2021
Very sturdy!
Very sturdy wire freezer bins! They hold several packaged meats, making the organization of my freezer easier.
Am•• ••er
August 3, 2021
Freezer baskets
They are sturdy and fit in a small freezer in my garage. I wish they were wider but that's my fault. I took measurements before I ordered. I might look for 1 more in a larger size. Overall, I am satisfied with them.
ma•• ••in
July 14, 2021
Look organized, even if you're really not
Somehow a raft of bottles of cooking ingredients that stuffed cupboards cannot accommodate and which are huddled together on a counter look infinitely less chaotic when in a defined space - such as these two baskets. I wanted to create the false impression that I'm well organized, and they do that. Sturdy, simply designed. Caveat emptor: not stackable.
Ji•• ••on
July 13, 2021
Above Average
Fit the freezer okay and work well. Only wish the sides were vertical. Sloped sides mean a little space is wasted.
Me•• ••pp
June 27, 2021
Perfect Fit
Just what we were looking for to organize our side by side freezer. Fit perfectly
J&•• ••ey
June 16, 2021
Very good product
I used them for the freezer to organize.
Li•• ••ks
May 24, 2021
Good quality
Purchased these to use in my freezer. They are made a a sturdy metal and works well for the purpose they were purchased.
La•• ••om
May 9, 2021
Did not fit
Too big for my standard size fridge freezer. Returned
Load More Reviews
Write Your Own Reviews
Only registered users can write reviews. Please log in or register
Sours: https://www.ubuy.com.ru/en/product/ZJSAES2-wire-baskets-refrigerator-freezer-baskets-wire-metal-storage-basket-modern-farmhouse-metal-large-sto
Close
Freezer Baskets manufacturers, service companies and distributors are listed in this trusted and comprehensive vertical portal. The comprehensive directory provides access to full contact and ability information for sourcing professionals, engineers and researchers wishing to get information on Freezer Baskets.
ISO 9001:2000 certified custom manufacturer of dipping, freezer, parts cleaning and washing baskets. Baskets can be fabricated and welded from wire rod stock and are available with expanded metal mesh with 1/4 in. and 1/2 in. openings. Specialized baskets can be fabricated with wire dividers, holders and frames. Handles are available in colors including black, red, white, blue, yellow, purple, green and beige color. Wire baskets are also available in sizes 18 in. x 11.5 in. and 10.75 in. x 8.5 in. and heights ranging from 2 in. to 8 in.
www.salcoeng.com/products-and-services/wire...
CallView Supplier Contact
Custom manufacturer of coffee and wire baskets made from mild steel and stainless steel. Available in 0.091 to 0.625 in. dia. Capabilities include wire straightening, CNC bending, crimping, laser cutting, press or brake forming and resistance, robotic, TIG and MIG welding. Prototype and low to high volume production offered. Serves the aerospace, automotive, chemical, cosmetic, medical, mining, foodservice, transportation, water treatment, textile, pneumatics, consumer products and laboratory industries. Lean manufacturing and Kaizen/5S capable. Blanket orders accepted. Meets Mil-Spec, ANSI, ASME, ASTM, AWS, DOT, SAE, QS and TS standards. FAA and FDA approved. CE and NADCAP certified. RoHS compliant. Made in the USA.
CallView Supplier ContactView Catalog
Wire baskets, half size fry baskets, full size fry baskets, basket supports, crumb baskets, breading baskets, rotisserie baskets, layered baskets, clamshell baskets, serving trays, cooling trays, warming trays, stainless steel trays, shelves for holding cabinets, refrigerator racks, freezer racks, oven racks, wine racks, grill racks, actuating rods, pull handles, carriers, piercing spits, baking trays, baking grids, proofer grids, loop wire grids, & cooler grids. Materials include stainless steel, cold drawn, and hot rolled steel. A variety of plating and coatings are available. CAD design & prototypes.
www.stevenswire.com/material.html
CallView Supplier Contact
Manufacturer of standard & custom factory, freezer & furnace wire baskets. Available in carbon steel or stainless steel. Types of wire baskets also include dipping/plating, heat treating, food industry, material handling, ultrasonic cleaning, spin dryer & laboratory/medical wire baskets. CNC tube bending, heavy & light metal fabrication, welding, stamping, staking, plating, coating, milling & lathe services are available.
www.etubeandwire.com/services/cnc-wire-form...
CallView Supplier Contact
ISO 9001:2008 certified custom manufacturer of wire & sheet metal products including baskets used in freezer, locker & locker room applications. Baskets are available in materials including steel, stainless steel & aluminum & in material dia. ranging from 0.035 in. to 0.500 in. Baskets are available in finishes including zinc, nickel, nickel/chrome, plastisol, nylon & powder coatings. Capabilities include CNC wire bending, wire forming, swaging, piercing, threading, drilling, upsetting, robotic & manual RSW (resistance spot welding), MIG (metal-inert-gas) & TIG (tungsten-inert-gas) welding. Just in time delivery available.
www.pacificwire.com/index.html
CallView Supplier Contact
Manufacturers of custom wire forms, parts & products, displays & baskets. Bending up to 1/2 in. diameter. Chamfering, degreasing, design assistance, drilling, welding, product assembly. Fabrication to specs.
CallView Supplier
Manufacturer of baskets including counter display, deep-frying, factory, freezer, metal, mill, oyster & clam, shipping, sterilizing, stock, tote & wire made of stainless steel. Other products include continuous spiral & guard mount. flat & profile guards made to U.L. specifications & fabrication of wire forms, wire & strip chassis, storage racks, shelving, mounting supports, special & custom holders & guards for heavy machinery. Capabilities include straightening & cutting, stamping, bending & forming, cold rolled heading & threading, resistance welding, assembly, electroplated zinc, P.V.C. & polyester coating.
CallView Supplier
Custom manufacturer of wire forms & welded wire assemblies including baskets for degreasing, parts cleaning, dipping, washing & freezing. Engineering assistance to help customers' develop designs. Other services include in-house "MerriBrite™ zinc plating, PVC coating & prototype development.
CallView Supplier
Custom manufacturer of fish & fishermen's, food store & freezer baskets available in 13 in. L x 9 in. W x 8 in. H to 30 in. L x 12 in. W x 12 in. H sizes with 3/4 in. to 1 1/4 in. x 2 in. mesh. Accessories include 2 in., 4 in. & 5 in. numbered & blank nickel plated brass checking pins, steel numbering punches, aluminum numbering plates & pop rivets. Electroplating, painting & powder coating available.
CallView Supplier
Blend TFE Temperature Resistant (Minus 100F To Positive 550F) NSF/USDA/FDA Plastics. Bins, Containers, Trays, Pans, Sheetpan Liners & Molds For Food Processing. Materials Handling Containers, Tunnel Washers, Dollies
CallView Supplier
Custom Wire Goods & Displays. Grid Panels & Accessories (All Types, Slat Standard, Louvre, Custom). Revolving Displays, Floor Displays, Ready-To-Assemble, Counter Racks, Tubular & Metal Displays
CallView Supplier
Manufacturer of OEM components including refrigerator wire shelves & freezer baskets. Products are constructed from fine mesh, flattened expanded metal or perforated metal liners. Wire shelves are available in finishes including zinc, zinc & lacquer, paint, epoxy, nylon, vinyl, electro-polish, nickel, chrome & plastisol. Custom finishes are also available. Baskets feature NSF approved powder coating. Capabilities include producing prototypes & accommodating large & small orders.
CallView Supplier
Manufacturer of standard and custom display or freezer baskets. Capabilities include cutting, bending, punching, stamping and routing. Finishing options such as chrome, nickel, plastic, epoxy, stainless steel and electropolish are provided. Serves the telecommunications, automotive, pharmaceutical, medical, defense, aerospace and food processing industries. Made in the USA.
www.marlinwire.com/in-stock-metal-basket-pr...
Sours: https://www.thomasnet.com/products/freezer-baskets-3411600-1.html
Use Freezer Baskets to Stay Organized and Save Space
Are you still struggling with the couple of freezer baskets your freezer came with — or worse, none at all?
Maybe you've started to notice that you can never find quite what you're looking for in your freezer. Or perhaps the back of your freezer is always stuffed with old, freezer-burned products you can no longer use because you forgot they were there.
It doesn't have to be this way!
Your freezer can be just as neat, organized, and easy to use as your spice rack or your tea collection. But it's not going to happen on its own — you need freezer baskets.
If you've never given a second thought to freezer baskets before, you're not alone. In this guide, we'll give you the lowdown on how useful these simple items can be. Then, we'll go over the top freezer baskets to buy in 2018. Keep reading to take control over your freezer!
What are Freezer Baskets?
Freezer baskets are exactly what they sound like: bins and baskets that go in your freezer to keep things organized.
They come in many different styles, including standalone baskets, hanging baskets, stacking baskets, and dividers. The right freezer baskets for you will depend on factors like what you need them for, and the size and shape of your freezer. However, no matter what style of freezer you have and what you store in it, these baskets make life easier.
It may be tempting use things you have around the house to organize your freezer, such as paper bags. Yet freezer baskets are designed to do the job much better. They fit right where you need them, won't fall apart, and make it easy for you to see exactly what's stored inside.
How to Organize Your Freezer Using Freezer Baskets
Still not convinced that freezer baskets are for you?
Organizing your freezer benefits you in ways you may not yet realize. You'll be able to store things so they last longer, and you'll quickly be able to find exactly the ingredients you need.
Most freezers are designed to be open, with minimal shelving. Although you can shove a lot of frozen food into the space without damaging anything, you'll soon have an ungainly, disorganized pile in your freezer. Baskets keep items from falling out when you open the door, and ensure things are easy to locate.
Let's go over exactly how to get your freezer in order using freezer baskets, step by step.
1. Know what you can freeze
To use these storage solutions effectively, you need to start with a working knowledge of what you can actually freeze.
Freezing foods is a wonderful way to make things last longer and stock up on what you need. However, some things will never last in the freezer, no matter how well you store them.
Things that don't do well in freezers include any produce with a lot of moisture, such as watermelon. As you can imagine, that moisture content quickly turns to ice. You also can't freeze most dairy products, like milk (ice cream, of course, is a different story). And fried foods never hold up well to being frozen.
However, you might be surprised by some of the things you can freeze. Use your baskets to store everything from nuts and berries to pancakes and muffins. You can make broths, stocks, soups, and stews in bulk and freeze them. And you can freeze all kinds of meat and seafood to make it last longer.
2. Consider your containers
Your foods get freezer-burned faster when your store them with too much air. Choose containers that are almost the same size as your items, or use freezer bags with the excess air squeezed out. Freezer bags are thicker than regular plastic bags, so they'll keep frozen food fresher. Keeping the air out also helps maximize your space when you're using freezer baskets.
3. Choose the right portions
Portioning out your bulk items makes them much easier to use, and freezer baskets are a great way to keep those smaller portions handy and organized.
After your latest journey to the bulk foods store, you probably just throw entire large packs of frozen food into the freezer. However, when you're trying to separate a single portion from the frozen mass of bulk food, it can be frustrating. You'll make life easier by portioning things out before you store them.
Take your bulk packages and separate them into the amounts you'll realistically use for each meal. Make freezer bags containing a pound of ground beef each, or ten chicken strips. Label and freeze these portions, using freezer baskets to keep them organized. Then, when you need to make a meal, it's easy to grab what you need and get started.
4. Add labels
You should always label and date everything in your freezer, no matter what. Freezer baskets make it easier both to arrange foods so you can see the labels,and to label each section of stored food, too.
The places that you store your foods matter. For example, the door is warmer than the rest of the freezer, so it's not a good place for fatty foods like ice cream that are more likely to melt. If you use freezer baskets with labels, you'll always know exactly which items should go where.
You can also label each item, so you'll know how long it's been frozen, and exactly what it is. You can weigh or measure portions of things like stock in your freezer, so you can choose exactly the right amount for the recipe you're working with. On the label, include the weight or measurement of that portion. With baskets, you can arrange everything so the labels are easy to see.
5. Flatten your food
If you can, flatten your food items when storing them in the freezer. This will make them much easier to fit into your freezer baskets, and uses the space more effectively.
For example, if you're freezing soup, put it into a sealed freezer bag, then lay it on the bottom of the freezer. It will set in a flat shape, and you'll easily be able to stack it inside a basket without wasting any space.
6. Organize small items
The smaller the item, the more important it is to use a freezer basket. If you're storing a lot of spice blends or other small items, a freezer basket means you can find what you need without freezing your hands while you search for it.
7. Store like items together
Your freezer doesn't need to be a random jumble of stuff. Use freezer baskets to create separate sections for meats, soups, vegetables, and more. This makes finding the right items even faster.
You can also store things by recipe instead of by ingredient type. For example, if you make a lot of smoothies, you could devote one basket to smoothie ingredients, such as fruits, vegetables, and nuts. When you're running low on ingredients, you'll know right away instead of digging around for something you don't have.
8. Make a dinner staging area
If you're cooking frozen food on a regular basis, one of your baskets can be used as a "staging area" where you put the ingredients for your next planned meal. That way, you'll always have a plan for your meals, and you won't forget to thaw things out when you need to.
9. Create a freezer inventory
If you list exactly what's in your freezer and cross things out as you run out of them, grocery shopping becomes much simpler. This is also a good way to make sure you use things before they go bad. Without freezer baskets, though, you won't have the organization you need to see what you have and make an inventory.
You'll find yourself spending less on groceries and cooking more efficiently when you have an inventory system. Instead of forgetting to use things and throwing them out or buying duplicates, you'll always know what you have on hand so you can use it.
Freezer Basket Prices
Are you sold on freezer baskets now? They'll simplify cooking, save you money, and best of all, they don't have to cost a lot.
There is a wide range of freezer baskets at all different price points. Simple designs in materials like plastic are the least expensive, while fancier designs made of metal cost more but last longer. However, even at the lowest prices, you'll still see the benefits of using baskets to keep your freezer's contents in line.
2018's Top Freezer Baskets
Which basket design is right for you? Let's take a look at some of the year's top-rated freezer baskets, based on consumer reviews.
mDesign Wire Storage Basket for Kitchen, Pantry, Cabinet
The best freezer baskets aren't always designated just for freezers. This is one of the highest-rated kitchen storage baskets on Amazon, and it's great for freezer use.
At $54.99 for a pack of 4 in the "deep" size, these metal baskets aren't the cheapest, but they're still quite affordable. The rust-resistant, sturdy steel wire holds up well over the years, and the built-in handles make these baskets easy to pull out of a freezer of any size.
They also come in a few different shapes and sizes, with different price points for each. If the "deep" baskets are too big for your freezer, look at some other mDesign basket styles.
Spectrum Diversified Scoop Storage Basket
If your freezer has limited space or you already have some baskets, it might be better to buy individual baskets rather than sets. The Spectrum Scoop Storage Basket in size "small" costs $11.17 on Amazon, so it's easy to buy one or two of them at a time as needed.
This basket is made of durable steel, and the "scoop" front makes it easy to reach in and get what you need. The open-wire design also lets you see exactly what's inside. Spectrum's storage baskets come in a number of sizes too, so you can choose what works best for your space.
IRIS Freezer Hanging Basket
To really maximize your space, you'll want to invest in a hanging basket or two.
Luckily, hanging freezer baskets aren't expensive. The IRIS design costs just $14.23 per basket, and hangs from a shelf in your freezer, so you can use all the vertical space. With a hanging basket, it's easy to reach exactly what you need, and you'll be surprised by how much more you can store in your freezer.
This IRIS basket is durable coated wire, and the size works well with most freezer designs.
Grayline 40604 Deep Storage Basket
If you want to maximize both your space and your budget, try the Deep Storage Basket from Grayline. These baskets can hold a lot of large items, and at just $18.79 for a set of two, they're one of the best deals on this list.
Grayline's coated steel design will last longer than a plastic basket, and the "extra-deep" size is perfect for large bags of soup, vegetables, and more. Since the baskets are made of wire, you'll be able to see everything inside, even at the bottom.
PROMART DAZZ Medium Stacking Baskets
Finally, stacking baskets are another great way to use your freezer space efficiently. And at $17.99 on Amazon for a set of two, this is another excellent deal.
These steel wire baskets stack on top of each other, so you can save space in your freezer. If one basket isn't completely full, just put the other one on top of it so the space doesn't go to waste. You can use your vertical space more effectively if you have multiple rows of stacked baskets.
The Promart Stacking Baskets also come with handles, so it's easy to get them into and out of a freezer of any size.
The Verdict
Freezer baskets are an inexpensive, highly effective way to make your food budget go farther.
You probably think throwing out old frozen food is tiresome. Or, maybe you're just tired of opening your freezer and having heavy frozen packages fall down onto your foot. Either way, freezer baskets are the answer. They'll make your life easier and save you money. What's not to like?
We'd love to hear what you think about this freezer organization idea. Whether you're excited about freezer baskets or have your own form of freezer storage that works for you, leave a comment and let us know!
Sours: https://freezerguru.com/freezer-baskets/
Amazing Skills of Crafting Metal freezer basket - freezer storage baskets - basket making - fridge -
We may get commissions for purchases made through links in this post.
Freezer baskets are a great way to organize your frozen foods. You can make the most use of your freezer space by being able to stack baskets or boxes and spot things easily. With grocery shopping being something we prefer to do more sporadically these days, it's great to be able to make the most of the freezer. Plus, it looks nice to keep our storage orderly. You can group like items together and take things out of larger boxes for ease of storage. Many baskets come with a space for an optional label or an area to use a freezer marker.
Whether you have a side by side or a slide-out bottom freezer or a top freezer may dictate the types of storage you choose. Wire baskets are great for a lower freezer because you can easily take them out to find what you need. See-through plastic bins are super for a side by side or upper freezer where you can easily see into them to find the item you're searching for. Our suggestion is to measure your freezer first and figure out the type of storage layout you need for your most frequently frozen stored items.
We've gathered some great freezer basket options of you in this post that will provide the storage solutions you need.
Wire Freezer Baskets
1. Set of Two Freezer Baskets With Built-In Handles
This is a handy set of wire baskets with built-in handles. Each measures 11″ x 10″ x 5.5″ deep, and they also come in a larger size of 11.8 x 11.8 x 7″ deep. These are sturdy steel with a PE coating so they will not rust and will look nice for years to come. They're easy to clean with mild soap and water and also easy to grab and go out of the freezer.
Click here to see these on Amazon.
2. Farmhouse Style Graphite Baskets
These baskets are made of sturdy steel with a durable rust-proof finish that has a farmhouse vibe. Built-in handles make these easy to slide out our pick up if you need the whole basket. Store popsicles, baked goods, or individual smoothie bags in this handy-sized basket. They are sold individually and are 12″ x 6″ x 6″ deep. They're also available in chrome and white.
Click here to see these on Amazon.
3. Set Of Four Wire Freezer Baskets
More great storage solutions for you with this convenient set of four storage baskets for the freezer. There are two medium-sized ones at 15.6 x 11.4 x 5.9 inches, and two large-sized ones at 16 x 11.4 x 5.9 inches. Easy to stack and still see what's inside of the lower basket. Great for storing bags of frozen veggies or cans of juice concentrate.
Click here to see these on Amazon.
4. Organizational Trays
If you need a shallow basket, this set might work for you. Each tray measures 16.1 x 8.1 x 3.6 inches deep. The built-in handle is easy to grip, and the finish is rust-resistant, so it stays looking great. Available in chrome as shown, or bronze or graphite colors.
Click here to see this pair on Amazon.
5. Four Pack With Space For Basket Label
This four-pack set of baskets each has a convenient slot to add a card for labeling the contents. Do you freeze meals? Label them for the days of the week. These baskets are available in 3 sizes: 12″ x 9″ x 6″, 12″ x 12″ x 6″,  and 16″ x 12″ x 6″. They're available in matte black, satin, and bronze colors.
Click here to see these on Amazon.
See-Through Plastic Freezer Bins
1. Slim See-Through Bins
These 16 x 16 x 5″ bins are an excellent slim storage container for the freezer. Easy-grip handles and easy to see what's inside are a hallmark of this design's versatility. Use them for baking goods or snacks or excess nuts and be able to grab in a quick go or simply slide out to reach what you need at the moment.
Click here to see these on Amazon.
2. Stackable Rectangular Bins
Here's a two-pack of conveniently stackable bins. This is the large size at 12.5″ x 8.5″ x 3.5 inches, but it comes in a total of 4 sizes. It's made of a BPA free food-safe and non-shattering clear plastic. Handles make it easy to grab when you need it.
Click here to see these on Amazon.
3. Clear Bin With Handle
This clear plastic freezer bin is equipped with an easy-grab handle for ease of removing and returning to the freezer. This is great for top shelves where you might need slightly easier access. The large bin measures 12″ L x 6.75″ W x 4.25″ and the medium bin measures 12″ L x 5″ W x 4.25″ H.
Click here to see this cool bin on Amazon.
4. Linus Design Modular Freezer Bins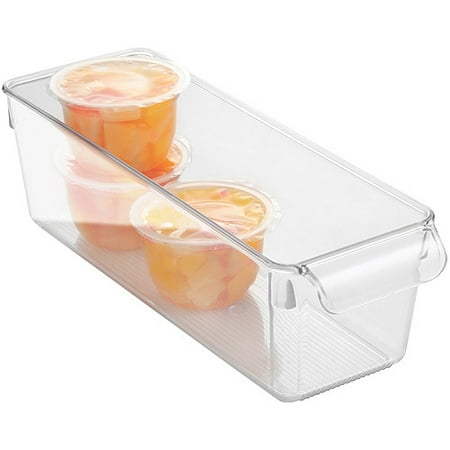 These bins are part of a line of freezer and pantry storage systems. This is a great size though at 29.21 cm x 10.16 cm x 8.89 cm. Combine it with other products by the same company to create the ultimate in organized freezer space. The contoured edge handle is a nice additional feature.
Click here to see this at Walmart.com.
5. Clear Plastic Freezer Organizer Set
This set of six is a great place to start to meet all of your fridge and freezer storage needs. The set includes two wide drawers that are ideally sized to fit fruits, vegetables, and other larger sized food items and two narrow drawers, sized to fit snacks, condiments, and other slimmer sized items. It also contains one dispenser drawer that holds ten – 12oz cans, small-sized food cans, juice boxes, and other types of drinks, and one egg drawer.
Click here to see this on Amazon.
Plastic Freezer Bins
1. Freezer Bin Drawer Attachable to Shelf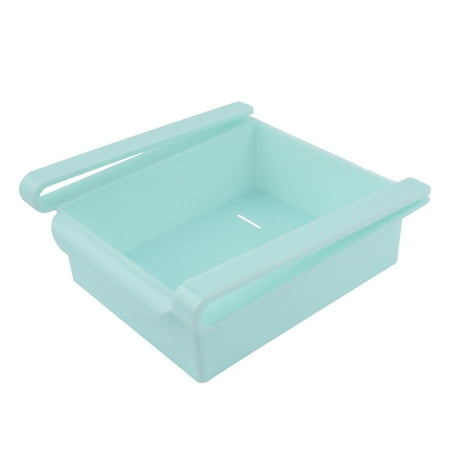 This stylish and retro-looking freezer drawer is unique because you can attach it to hang from the shelf above it. This gives function in a space that might otherwise be empty. The size of this drawer is 16.3 x 15.4 x 6.8cm(L*W*H), and it comes in blue, green, pink, or white.
Click here to see this on Walmart.com.
2. Ventilated Six Pack of Freezer Baskets
This six-pack of freezer baskets is ventilated and has easy to grasp handles for moving items in and out of the freezer. Have one for each day of the week or each person in your family. Each basket is 13.75″ x 10.75″ x 5″, which is a great size for multiple types of items.
Click here to see this on Amazon.
3. Plastic Shallow Storage Trays
Here's another six-pack of storage trays in plastic. These are shallow in depth but quite wide. They would work well for frozen meat packages or frozen vegetables. Each tray is 11.22″x7.87″x2.76″(L*W*H), and they have convenient built-in handles for moving them around.
Click here to see these on Amazon.
Remember, measure your freezer first and assess your needs before ordering bins and baskets. But then don't delay. You'll simply love having such an organized space for your frozen foods.
If you enjoyed this post here at KitchenSeer.com, please check out these others for more food storage solutions!
13 Types Of Food Containers You Should Know About
10 Fantastic Bamboo Food Containers You Should Check Out
You Might Also Like
Sours: https://kitchenseer.com/best-freezer-baskets/
Freezer baskets metal
.
How I Organise My Chest Freezer - A Thousand Words
.
Similar news:
.
272
273
274
275
276