Yesterday I introduced our exciting week long Play inspired by Nature series.  I am having so much fun collaborating with Crystal from Growing a Jeweled Rose.  Yesterday we both played in the MUD and had a blast.  If you missed it you can find our mud posts here and here. Today we are both "singing in the rain, just singing in the rain" 🙂  OK, I'm not sure I heard any singing, but we did have lots of fun Rain Painting.
……………………………………………………………
My kids love painting, so we decided to take it outdoors and paint with Mother Nature.  Day 2 of Play Inspired by Nature series ~ Rain Painting.  We have done this before, and it is always a hit.  We actually experimented with 5 different painting mediums to see which we like the best.
Rain painting with Broken water color cakes ~ We used a cheap watercolor set, I think found at the dollar store.
The kids popped the cakes out the the container and then broke them into little pieces with a hammer.  This was my sons favorite part:)  They placed our in a baggie to try and contain all the broken pieces.
The kids sprinkled the watercolor bits onto a water color paper and set it out in the rain.
After a while, I was surprised that the watercolors did not run and bleed more.  So we placed a piece of plastic wrap over the entire paper and proceeded to squish the colorful bits.  They had softened in the rain, and the kids really enjoyed watching the colors squish and spread under the plastic.  We may try it again with a different brand of watercolors to see if we can get better results.
Rain Painting with Powdered Tempera Paint ~ Powdered Tempera Paint is relatively inexpensive, and is really easy to use.
Instead of mixing it with water to make paint, we sprinkled it onto our paper dry.  As the rain drops hit the powder, it turned into paint.

It gave a very textural look to the painting.  I think it would look great in a rainbow of colors!  Just make sure to sprinkle the paint lightly.  The larger clumps did not work as well as the thin sprinkled areas.
Rain Painting with Washable Markers ~ This is one of the easiest ways to paint in the rain.  All you need is a few markers, a piece of heavy paper and some imagination.  The rain will blur and soften your image as the color bleed and run together.
Rain painting with Watercolor Crayons ~ I have posted about my love for watercolor crayons before.  Since they also bleed when wet, we thought it would be fun to see what they did in the rain.
Simple sharpen your watercolor crayons with a pencil sharpener and sprinkle the shavings onto your paper and let the rain do the rest.
I love how the colors pooled together.  Notice the larger "spots", they were created with larger chucks of watercolor crayons.
Rain Painting with Food Coloring ~ This is how we have painted in the rain before.  We always have food coloring on hand so it is our go to method.
We have found it works best if the paper is wet when you apply the food coloring.  So we took our paper and food coloring outside.  Once the rain soaked the paper, the kids dropped food coloring onto it.    
They love picking up the tray and watching the colors swirl and mix.
While the kids were waiting for the rain to do its magic, they hit the streets with chalk.  Drawing with chalk on a wet sidewalk is one of our favorite rainy day activities.  
Chalk takes on a whole new texture when wet and the colors are twice as vibrant.
If you are still looking for more ways to play in the rain and stomp in puddles, check out our  Rainy Days, Clouds and Puddles posts.  There are lots of outdoor rainy day play ideas, along with a fun science experiment.
What is your favorite way to Play in the Rain?
……………………………………………………………
Make sure to stop by Growing A Jeweled Rose and check out Crystals Rainy Day Activities ~ Puddle Play.  Her girls always have a great time stomping and getting creative with puddles!
Also check out Monster Puddle Stomping and Halloween Puddle Jumping Fun
……………………………………………………………
You might also enjoy the learning through movement series being shared by members of:
Gross Motor Addition Game
Number Hunt
Add It Up
……………………………………………………………
Posted in Experiments, Kid Art, Spring, Summer and tagged Kid Art, Nature Play, Painting, Spring. Sours: http://www.housingaforest.com/rain-painting/
Easy Rainy Day Painting Tutorial
"I can't draw people."
"Easy for you, maybe."
"Oh, I could never paint something like that!"
When I was testing some paper a few months back, I did the quick painting above, just to see what kind of effects I could get.  It took 15 minutes, trying a little of this and a little of that.  I considered it 'easy' and said so when I shared it on my social media.  People liked it, but to my surprise almost all the comments were a variation of the ones I wrote above.  
This painting seemed so simple to me, and I started trying to convince people of that.  Then, I decided to listen.  One woman's 'easy' is another woman's 'Oh heck, that is crazy hard!'
So, I tried to come up with ways to make this kind of painting easier.  I've come up with some 'cheats' as it were, that will still keep you in the creative seat, but might help you with the harder parts.  If you are more experienced and feel good about painting people you won't need some of these steps.
This is what I came up with.
Painting this will take you less time than reading this tutorial.  You can follow the instructions exactly, or add your own touches and either way create something dramatic and eye-catching.  No need to have the exact tools – use what you have or feel comfortable with.  
I video'd this tutorial, so you can see what I'm doing.  The written tutorial has more tips, and you can take more time with the things you find most difficult.
Distortion from the Storm
We're doing a painting in an urban setting during a severe rainstorm.  People, umbrellas and buildings can be a challenge but you are not going to worry about scale, perspective or detail.  It's a storm! People are dressed in layers of clothing with weird hats, and hoods, and they're hunched over in odd poses.  The wind is blowing their clothing and umbrellas all over and the rain distorts everything.  So, if a building is crooked – it's distortion.  If a person looks like a blob – it's distortion.  You are free! Just paint and let the storm carry you away.
The Tools
Drawing People
I realize that many people don't have the time to practice drawing, or are really just looking to relax when they do art, not add another task to their busy lives. I've come up with some step-outs, like steps to a pattern, to help you draw fun people.
People are just a collection of shapes.  Mix and match shapes and create people of your own.
If you want people who are a little more challenging, here are a few.  Notice there are still shapes – they're just less defined, with a few curved lines here and there.
If you aren't at ease with drawing people, you are probably inclined to erase.  This can damage your paper.  A plastic sheet – transparencies, acetate, overhead projector sheets – can be very helpful.  
You can cut the plastic to size, erase without damage (if you use a non-permanent pen) and use it to create a stencil. You don't waste paper and you can use the same piece of plastic over and over.
First, make sure you are using a pen that will erase.  Write on the plastic, erase with a paper towel.  You want something that wipes away completely.  I used the black Ecoline Watercolor Brush Pen but almost any non-waterproof pen or marker will work.
Nope.  Don't like this one.  Away it goes.
Ack! This one is too tall for what I want!  Away it goes.
Yes.  This one will do.  Now, I'll confess.  The downside to plastic sheets is that they are hard to see, even once you've drawn on them.  I sat this piece down and never found it again.  So, I had to redraw my person.
If you are feeling comfortable with drawing people at this point, you can draw your person on paper, but if you are still feeling uneasy about that, then create a stencil.
Creating a Stencil
You have two options, you can cut a person-shaped hole inside the plastic sheet or cut the person-shape out of the sheet of plastic.  It was easier for the camera to pick up if I cut the figure out instead of around.
I fold the sheet loosely – not enough to crease it, and snip in the center of the piece to be cut out.  This creates a hole where I can start cutting from the inside out.
When you have the shape cut out, lay the plastic on the paper, and trace around the edge of the stencil cut-out.  I recommend using a permanent pen for this so you don't smear the lines when you start adding watercolor.
Another use for plastic sheets.  I cut them to a size just a little larger than the book I am painting in, and use it to protect the paper underneath.
Painting the Painting
I'm using Ecoline Watercolor Brush Pens that go on like a marker, but re-wet and spread like watercolor.   You can use almost any medium though.  The results might be a little different, but you can still get that dramatic feeling of someone walking in a storm.
The main color for this painting is 'Sky Blue'.  In other mediums, this might be called Cyan or Phthalo Blue.  You don't want the blue to be too light or it won't seem as stormy.  Black needs to contrast so you don't want the blue too dark, either.
I draw lines diagonally across the page.  All the lines should go the same way to show the direction of the rain.  I'm using the side of the pen to create broad strokes and I'm leaving white streaks here and there – but none go from edge to edge.  Try not to be too even with your strokes.  Overlap them in some places. Leave some white streaks wide and some narrow.
Once I've covered most of the page, I use a waterbrush to wet the color and blend it.  I still want the color to be streaky.  Think STORM!
In some areas, I add more water and make circular motions.  Normally you don't want blotchy spots in your paint, but in a storm there will be places where the rain splashes, and things get misty.  Notice that I'm making the paint really blotchy at my person's feet.  People splash a lot when walking in heavy rain.
I decided to make the umbrella bigger – yay! you can change your mind at any point during this painting!
Try to leave the painting lightest in the center.
You may feel uneasy about drawing buildings, but remember distortion is your friend here.  If you feel the need, you can practice on plastic first, and/or create stencils for your buildings.
The only thing I'm doing to indicate perspective is to slant the windows.  I did make sure all the windows slanted the same way.
I'm going to add some red to buildings. The camera doesn't pick it up well, unfortunately. Because of the blue, the red turns violet. That's okay. It adds interest and increases the range of values.
Rather than drawing all of the buildings, I do a little bit, and then I use the damp brush to create wet spots, and blot or smear some of it. In particular, if you paint lines you don't like, trying smearing them.  It's a handy cheat, lol.  Even if you like all the buildings you've drawn, smear in a few places to increase the sense of low visibility in a storm.
If you are comfortable with perspective, you'll probably want to use it, but don't worry about it if you are not. There is a charm to limited perspective. It is a feature of some art styles, such as naive art.
Look closely at this image.  There are some important things to notice.
Most important:
The space between the edges of the umbrella and the buildings.  Some overlap is okay, but you want your person to stand out.
Look how little I've drawn for the buildings! You don't need much.
The buildings on both sides slant, slightly, towards the center of the page.
Other things:
I picked up color from the top of the right building and painted a very light abstract shape.

A bridge maybe or trees in the park.  It's too stormy to tell, but you get the feeling of objects in the distance.

I've dragged color from the bottom of the buildings, down into the street, while smearing the dark lines.

This gives the feeling of reflections.

There are two kinds of buildings.  Light in dark and dark in light.  More interesting if there is a mix.
I want darker violet, so I add some.  Notice the faint shape behind the right building.  It's going to become another building that's in the distance.  And yes, I covered most of that abstract shape I pointed out earlier – it's important that you feel free to change as better ideas occur to you.
Add whatever colors you like.  We'll be adding brighter ones in the next steps using gel pens, so what you add now should be dull and muted, colors blurred in the rain.  
I continued to smear, and I also lightened the color in the buildings.  I want the person to be the darkest object on the page.
I colored in the person with the black and I go pretty solid, but I do leave some streaks.  Now, it's time to add the person's shadow.  Are you uneasy about that?  If so, I hope you kept your stencil!
Turn the stencil upside down and line the stencil feet with the drawn feet.  Don't color the shadow solidly.  Leave some color showing through and give it uneven edges.
With the white gel pen, I make marks, just little lines and dots to indicate lights in the windows and along the street.
Notice how that distant building stands out more once I add the white lines to it.
As with the black, I smear the gel pen here and there.  The difference is that you need to smear the ink almost immediately after drawing a line.  You can re-wet but that usually washes the ink away altogether.  If you don't like getting ink on your fingers, use a bit of sponge or wadded up paper towel.
For more interest, I add some lights with a fluorescent yellow pen.  Feel free to add reds or other colors.  Glittery colors would be great!
After switching back to the white pen, I start adding splashes.  I squirkle these.  Squirkle – that's a fancy term for scribbling, lol.  And you guessed it – smear some of it.  Things get awfully smeared in the rain.
The heaviest splashes should be around the person's feet, and around the bottom of the buildings.
And I'm done.  It takes so much longer to explain it all than to actually do it.  I hope you'll give it a try.  You can do these over and over with different people shapes and different buildings.  Try different colors and different mediums.
But most of all, have fun!
Sandra Strait
I'm a self-taught artist who dances about with all sorts of artistic mediums. My main loves are Watercolor, Zentangle and Ballpoint pen. The subjects of my work are many and varied and change at whim. I'm a little bit crazy, but doesn't that come with being an artist? At my Life Imitates Doodles Blog, I post a list of resource links for Tangles, Tutorials and Giveaways three times a week. I also write reviews, hold giveaways and share my art work.
Recommended4 recommendationsPublished in Tutorials
Sours: https://doodlewash.com/easy-painting-tutorial-rainy-day/
Three Ways to Paint with Rain!
Try these three easy ways to do some rain painting!
It rained here on the weekend. Usually rain on the weekend would not be a reason for celebration, but despite our cold wintry weather we haven't had much rain for a long, long time.
We are not connected to a town water supply, so all the water for our family comes from the rain on our roof, collected into big water tanks, so no rain means, no water.
We just scraped through the summer by being really really careful about how much water we used, and a couple of small rainfalls over autumn have kept us out of trouble, but what we really needed was a big huge dump of rain, and that's what we got on the weekend!
To celebrate we all had nice long showers, and we painted with the rain.
Yep, we painted, with rain!
We tried out three different ways to paint with rain. Each of them were easy to do and had awesome, but very different results.
For each technique you'll need a sheet of paper and a tray or container large enough to fit the paper. We used nice heavy watercolour paper as that holds together better when wet and soggy.
Here are the three different rain painting techniques we tried.
Rain Painting with Liquid Water Colours
We used liquid water colours, but you could also use food colouring for this fun rain painting technique.
All you need to do is use an eye dropper or a spoon to drip colour all over the paper.
Rain Painting with Markers
The easiest rain painting technique uses plain old water based markers.
Colour a piece of paper with the markers. You'll get a more striking result if you try to colour the whole page and if you overlap the colours a little.
Rain Painting with Water Soluble Crayons/Pastels
Do you have any of those water pastels? The kind that if you brush water over your drawing it turns into paint? Or you could try it with water paint pencils too.
We used water soluble pastels and a pencil sharpener to drop shavings of colour all over the paper and we were very excited to see what happened to them in the rain.
Now you've got your paintings prepared all you need to do is take them outside and put them in the rain!
We put our paintings on the edge of our deck and they quickly turned from this…
To this…
The kids had so much fun standing out in the rain watching the paintings change and the colours merge and swirl as the paper gets wetter and wetter.
The longer the paintings stayed out in the rain the more the colours combined and were washed out. We left ours out for quite a while, and after they were dry this is what they looked liked…
Next time it rains at your place, give this fun rain art activity a try!

Need some rainy day books to read? These are some of our favourites!


Filed Under: Activities for kids, Fun for EveryoneTagged With: activities for children, activities for preschoolers, activities for school kids, art for kids
Sours: https://picklebums.com/three-ways-to-paint-with-rain/
The Rain Day/Easy Acrylic Painting for Beginner/Step by Step/Painting Tutorials/ Painting ASMR
How To Paint Raindrops
Introduction
Have you always thought that the things that look the easiest are actually the most difficult? I mean it's funny, no? Who would've thought that we would be having a hard time painting some good old raindrops but here we are. But don't worry anymore you have come to the right place. We found the 10 easiest ways for you to paint a meticulous rain drop which is going to enhance your painting 100%. With these tutorials we are going to breakdown painting a rain drop for you and the thing that seemed so intimidating will be easily do able. So brace yourself as we embark on our journey of learning to paint raindrops! These will vary from beginner to advanced level and you can choose any one that suits you the best!
The detailed painting of a rain drop can be done by using Acrylics, water colors, color pencils and even a simple led pencil or gel pens in the colors of blue and white for the extra effect. Depending on whatever you are more comfortable with. Raindrops would be one of the first things that you would be painting in a picture as they often make up the background so make sure you watch these tutorials before you select your painting!
Sabayi's Easy Raindrop Painting on Canvas
In this beautiful canvas painting, Sabayi shows us a complete painting of raindrops with shades of blue in the background. His detailed tutorial shows us how to draw and complete the painting of every single rain drop with extreme detail and all the colors that he uses are also very visible. It'll be easier to follow this tutorial for someone with a little experience. For a beginner the detailing of the white edges that make them look practical will be harder. The reason I'll be giving it 3 stars is that the end product has a little animated feel to it. So if you're going for a natural landscape this won't be the best option for you.
Detailed Raindrops With Pencil By Wild Dots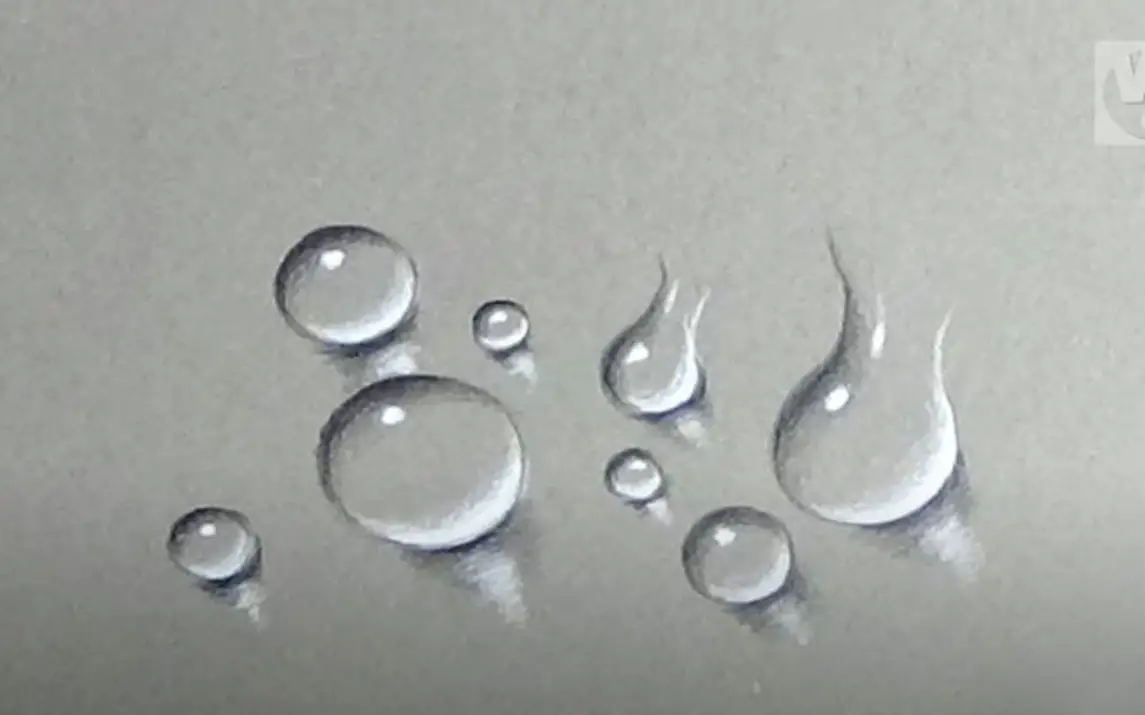 This time lapse video is definitely an underestimation of the effort that goes into making one simple raindrop. Delicately drawn with a lead pencil and white color pencil are some different shapes that can be used to depict a rain drop. He first uses a pencil to carve out raindrops and then adds depth and reality to the drawing by adding white and shadows using the same two pencils.
5 Steps To Getting The Perfect Rain Drop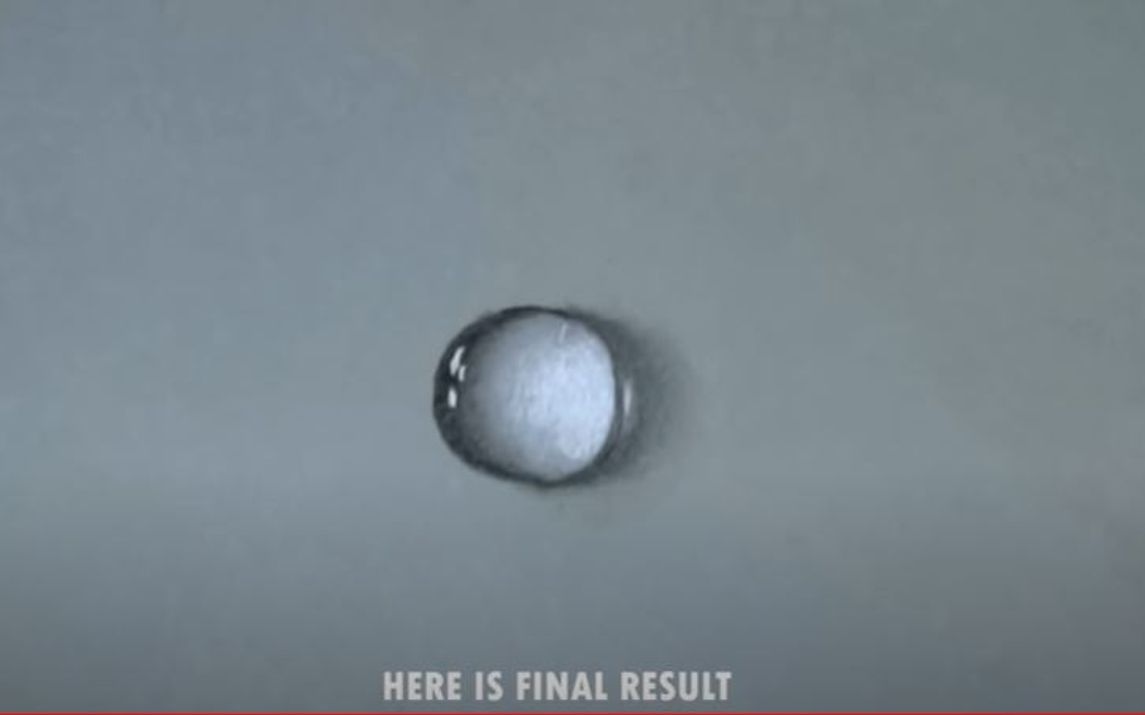 Mahesh Pendam has given us an absolutely easy and remarkable guide on achieving perfection! This has to be my favorite tutorial; however the use of a charcoal pencil may become a little untidy but I think many will be able to handle that. In 5 simples steps with this tutorial you would have made a raindrop that can be a part of any landscape painting. His technique is clearly showed in the video so this would be easy for beginners too!
Dreamy Raindrops On A Car Windscreen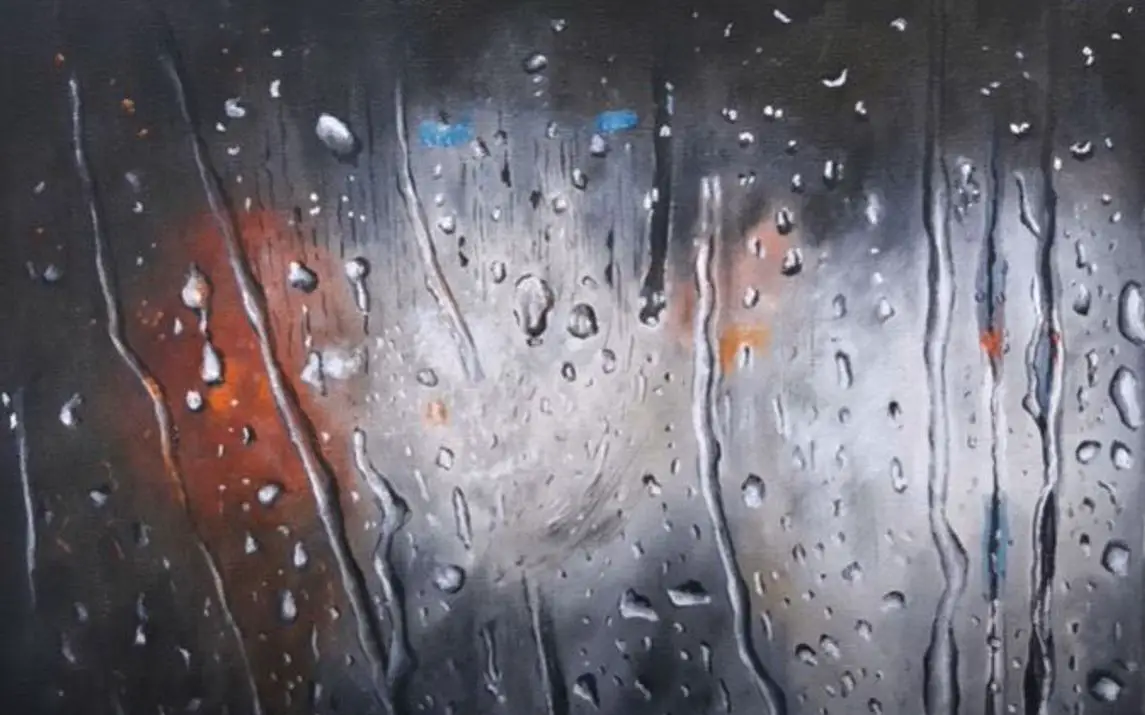 Tejaswani Sharma has painted a master piece in just a small time! These are the kind of aesthetic paintings that everyone is looking for these days and she just showed us how to create the compelling seen of a car windscreen. You can create the same magic by following her instructions and painting techniques. She shows the way they are drooping down and adds extra detail which is all that we want! With this tutorial you won't only learn to paint a rain drop but you'd be able to create the painting that can add an extra aesthetic touch to your room.
Greg Lowman's Easy Pencil Raindrop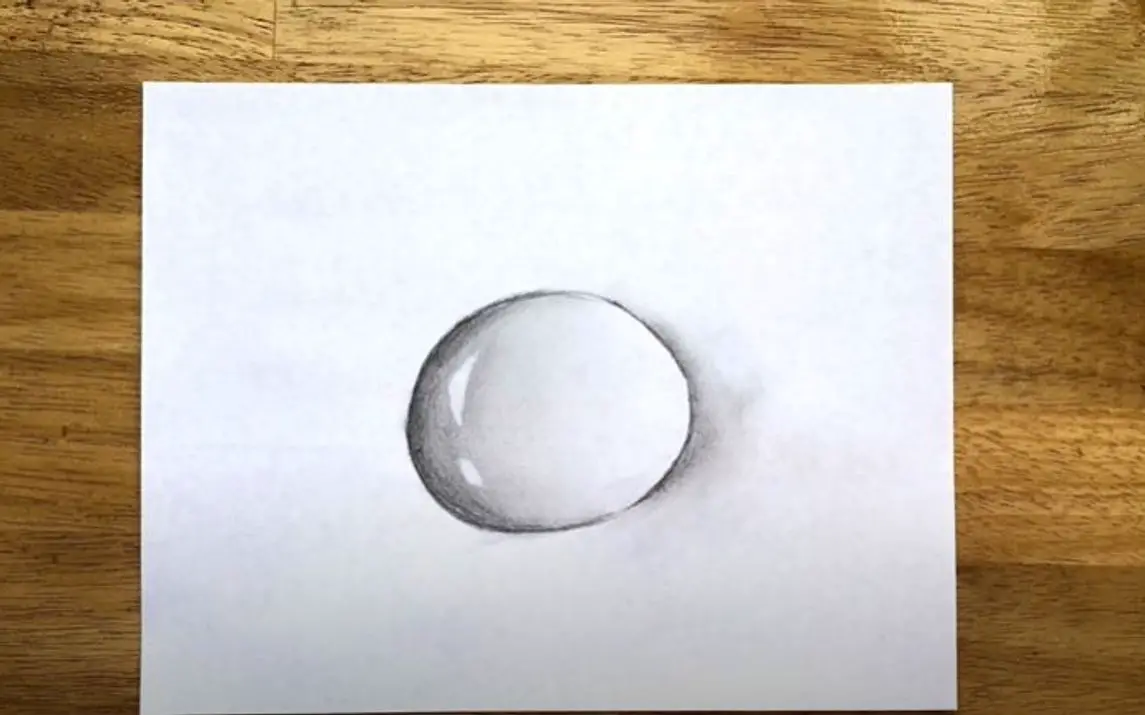 This tutorial is perfect for any beginner. If you have just started drawing and painting and find it really hard to work with acrylics or water colors just grab a pencil and Greg will help you make the best rain drops! In under 5 minutes you will have made a rain drop and with some practice you'll be as good as him! This pencil drawing may not look good on your canvases with acrylics but you can draw with pencil and work your way in with pencil colors or water colors.
Gorgeous Rainy Day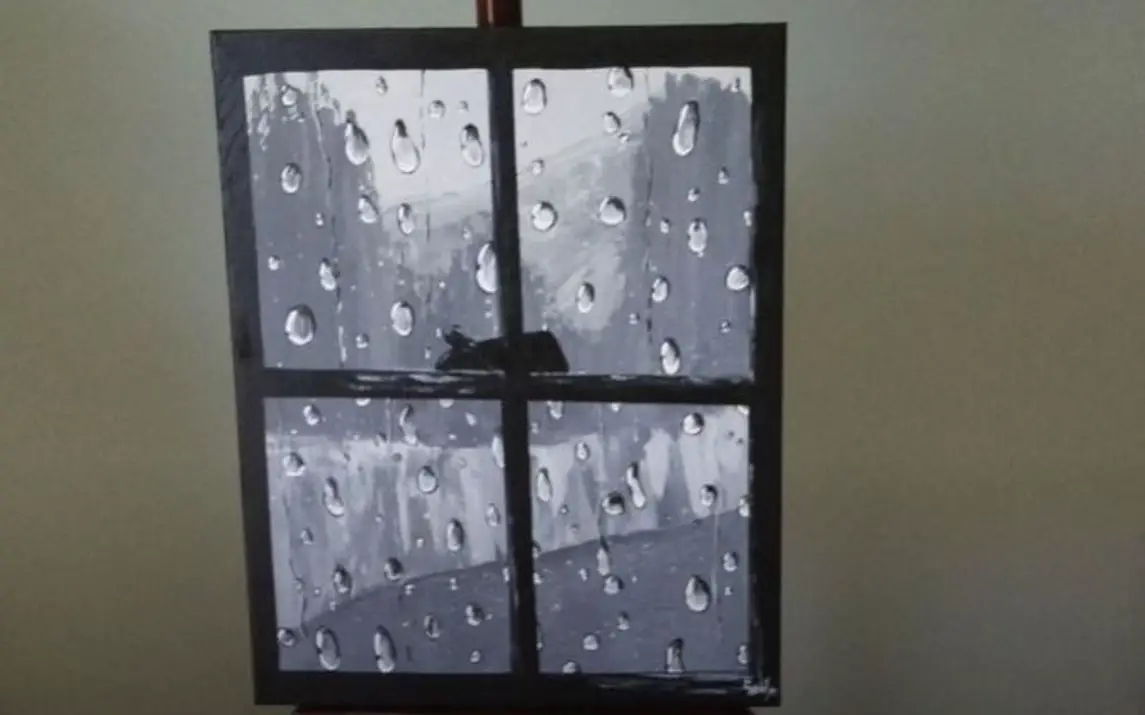 Carol Held has taken it upon herself to teach us all the art of making a gorgeous rainy day. She believes that this step by step tutorial will allow any beginner to pain realistic paint drops but I personally believe it's still going to be a little hard for any beginner to paint this master piece. The end result is absolutely stunning and I don't think there is any more detailed tutorial so do try this one! Her techniques are simples and easy for anyone to learn, especially the way she's showing us makes it all the more easily understandable. The only downside is that this tutorial is half an hour long.
Artistry By Isra's Rainy Season Tutorial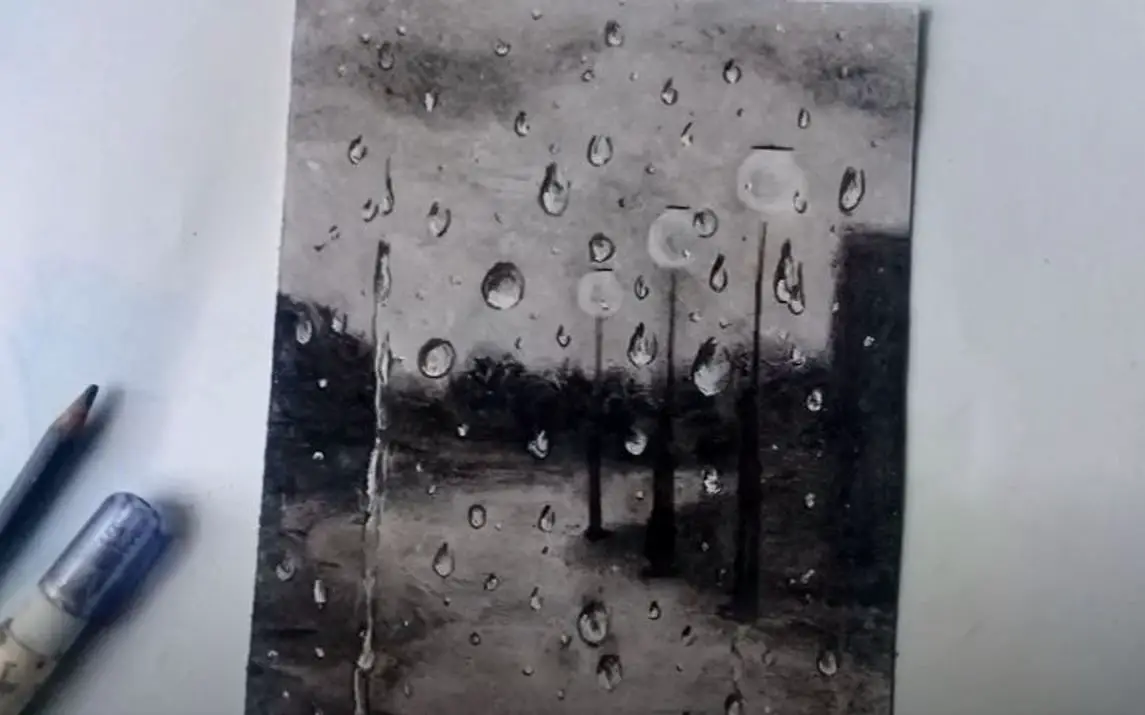 Again this is a complete painting in which you will learn how to not only make rain drops but create a whole rainy season painting. Her technique to make rain drops is not exceptional it's just a simple drawing with pencil which she paints using a white color to add further detail. The end product is not very impressive but this will help you understand how to draw and make your rain drops the superstar of your drawing.
Beginners Guide To Making A Rain Drop (water drop)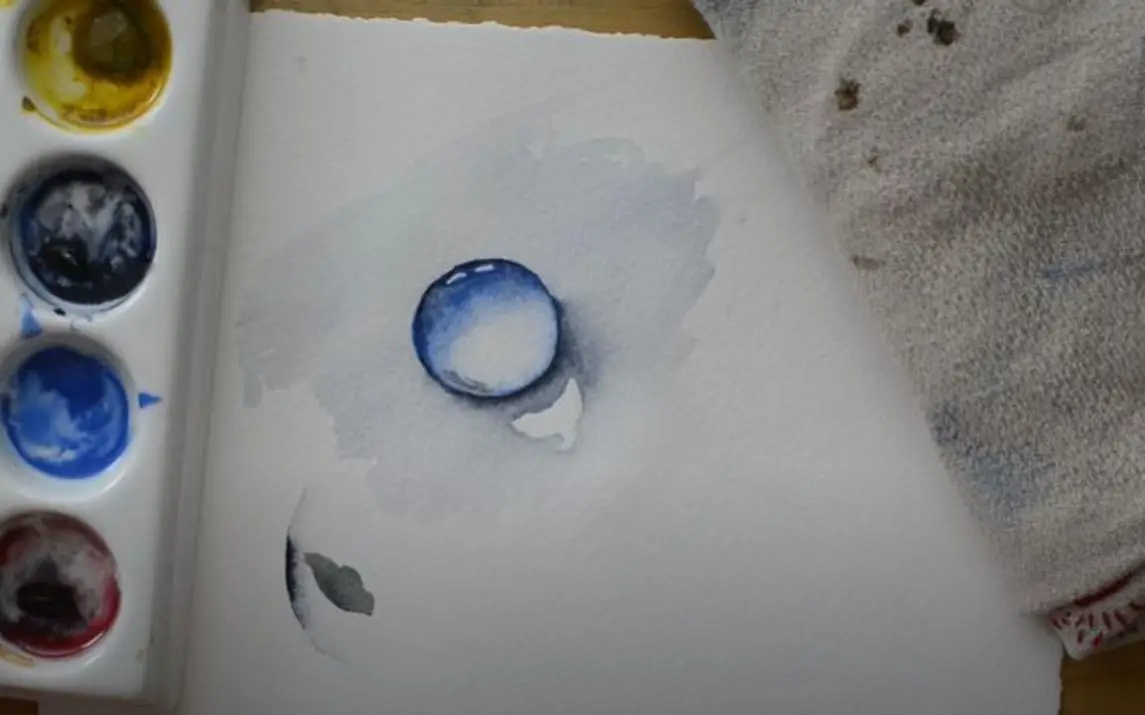 A tutorial so detailed and well explained is not only ideal for beginners but for anyone because the learning never stops! Sandra J Schultz is the art teacher you dreamed for in this tutorial, the way she explains everything with steps and shows it is all that a beginner would like. With pencils she shows you how to draw and then colors them with water colors step by step. I love the fact that she also drew out the shadow with a pencil before painting. Even her painting is so detailed and slow that anyone can learn from this tutorial.
Easy Acrylic Rain Drops Tutorial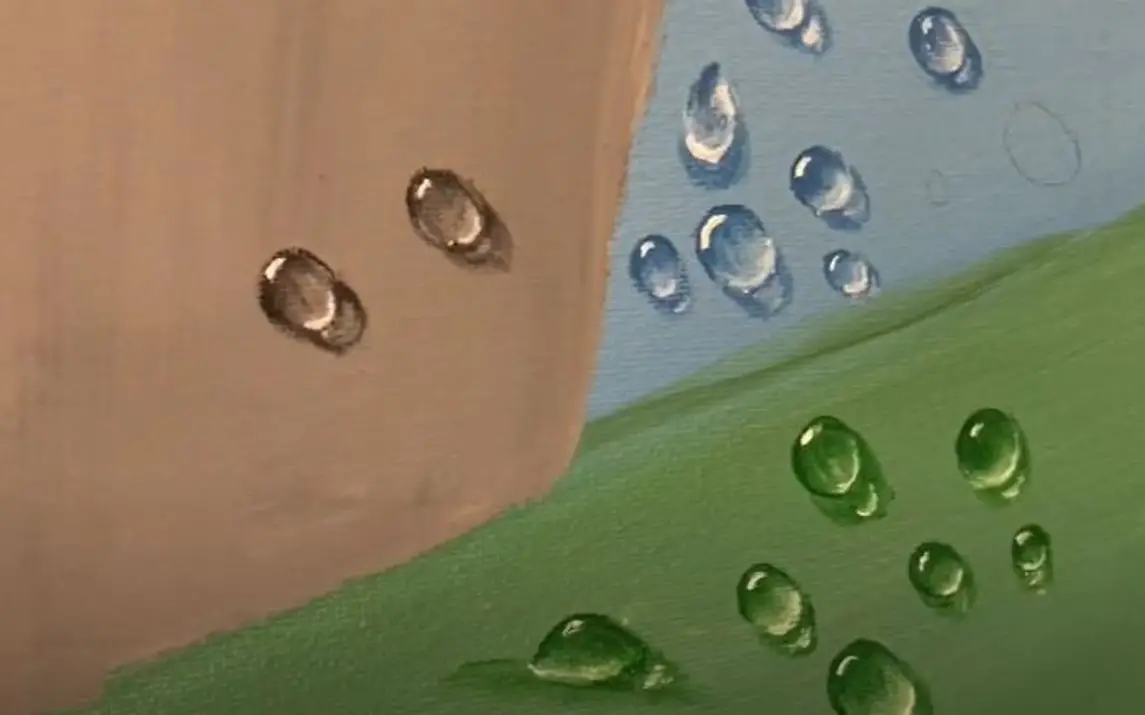 In 5 easy steps using acrylic colors very realistic rain drops are painted on a canvas. The tutorial is not very detailed but for an experienced or intermediate level artist this will be easy. A list of supplies requires is also given in the beginning, make sure you chose the right color palette to make natural and realistic rain drops because the animated effect does not work well with many paintings.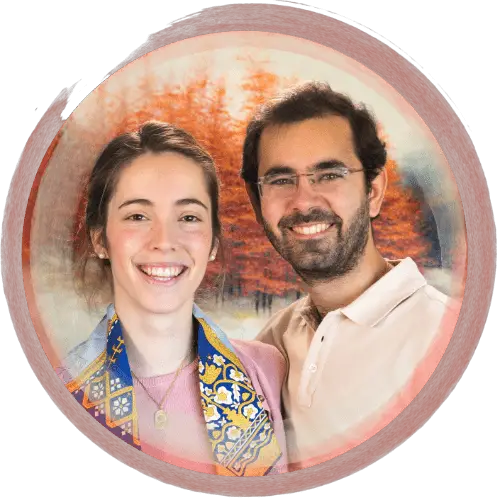 By Jimena & Iñigo
The Navarro-Rubios
My husband and I are learning how to draw and paint. We wanted to share this learning process with the world and have fun! That's why we created this blog. We'll have drawing contests every week and you'll decide who won that week! Follow along and learn with us!
Posted in:
Sours: https://www.drawingwars.com/how-to-paint-raindrops
Paintings easy rain
.
Rainy Day Acrylic Painting for Beginners / Step by Step / Daily Challenge #103
.
Now discussing:
.
136
137
138
139
140