40mm Sealed Bearing Fan (24V) – Quiet (25dBA)
Compatible Machines:
Ender 3/3 V2/5/5Plus

Hotend and Control Box
Install Notes – Depending on your revision you may need to widen the holes a little on the fan screw holes themselves (use a file or drill bit slightly larger than the stock holes) to get them to slip over the metal posts, or use slightly longer screws.

Ender 6
CR-10S Pro

Hotend Fan and Control box Rear

Tevo Tornado
Geeetech A10 V1
Sunlu S8
Wanhao D6

Hotend, Layer Fan, and Control Box

Wanhao i3 Mini
Installation Notes:
Be sure to check the polarity on the wires you are connecting our fans to. Typically red is positive and black is negative but some of the Chinese printers to not adhere to these standards.

There is no list of what machines use what as it can vary from model to model and we have even seen differences in wiring colors used in the same printer models.

Our fans use red for positive and black for negative. You can verify polarity with a cheap $10 multimeter from Amazon or you local hardware store.

If fans are shorted out/killed due to improper wiring this is NOT covered under warranty.

Some Creality machines have been reported to have larger size metal screw standoffs. If your fan holes do not fit over them please see this article to make the fan fit correctly while still using the stock screws.
Noise notes:

In our testing and per the manufacturer specs these are quieter than stock fans based on dB measurements taken with a calibrated dB meter.
Removing and/or changing the design of the grill that the fan is behind will change the noise level that is perceived to your ears and it is subjective based on the person listening.
We only use dB meters to check noise levels. Most stock fans are 30-35dB in noise levels based on measurements of the stock fans from Creality, Tevo, and Wanhao that we measured here.
It is said that every 10dB increase in noise is perceived as 2x the loudness that a person hears (see here for detailed info on loudness and how it is perceived).
Tech Specs
Airflow: 6.7 CFM
Voltage: 24V DC
Noise: 25dBA
RPM: 6000
Power: 1.4W
Wire leads: 2 wire
Life Rating: 50,000 hours (5+ years)
Other features:

Reverse Polarity Protection
Auto Restart

2 "UY" quick connectors for solder-free installation
Quick Connectors Information
Please read our documentation on using the included UY connectors here:How to use our Fan Quick Connectors (UY Style)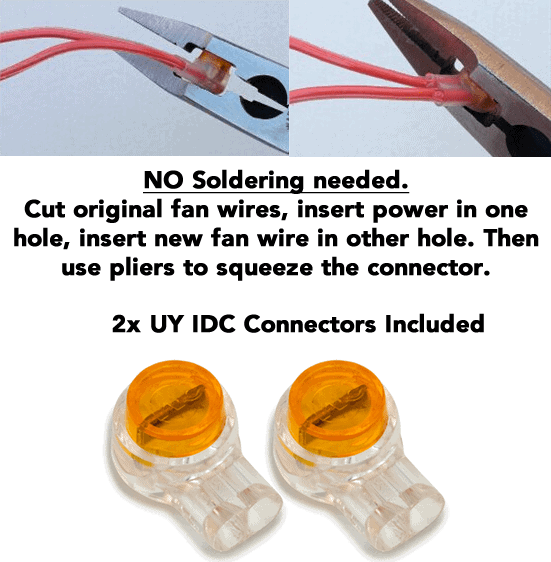 Part Fitment/Installation/Wiring
This is a universal 3D printer part. That means it will work on almost any 3D printer. Electrical parts usually will require you to splice wires into your existing ones for the part you are replacing (soldering and heat shrinking wire splices is recommended for proper connection).
Some of our universal electrical parts come with bare wire ends or plugs on them. These ends may or may not directly plug into your 3D printer. If they do not, you will need to splice the wires into the existing ones on your 3D printer.
Warranty Information
3 Months Warranty -  Our warranty covers any and all defects with the product. If your product fails or has problems within the warranty period you can contact our support team by using the Contact Us link.
Damage/Failure due to improper installation, improper usage, failure resulting from an issue with the machine the product is installed on, 3rd party products connected to our product, and/or modification of the product are not covered under warranty.
Share your thoughts!
4.64 out of 5 stars
14 reviews
Let us know what you think...
Sours: https://www.th3dstudio.com/product/40mm-sealed-bearing-fan-24v-ender-3-tornado/
Ultra Silent 24 Volt 40mmx40mmx10mm 4010 DC Brushless Cooling Fan 2.54
Description:
- Environmental protection, safe, harmless.
- High quality raw materials, fine workmanship.
- Easily installed and exhaust the hot air from inside the case.
- Increase air flow in your system.Cooling down the entire case.Extend your system life span and Computer better work.
- 4010 9 Blade Brushless DC 12V Cooling FanThe advantages is including low-noise, low-vibration, reliable running and so on.
- Mainly apply to auto-control system, electronics, medical facilities, computers, PU power unit, welder, packing and print equipment
Specification:
- size: 40mm x 40mm x 10mm
- DC Cooling Fan
- Rated Voltage: 24V
- Current: 0.10A
- Input Power: 2.4W
- Nominal Speed: 7000 RPM
- Air Flow: 7 CFM
- Noise: 24 dBA
Package Includes: 1 x Cooling Fan
Product type: Coolers & Heat Sinks
Found an error?
Sours: https://www.joom.com/en/products/5b074a6b8b4513016f831eb4
Ultra-Quiet 40mm Fans
Electrically, there is no problem doing this - the fourth pin on the fan cable is used purely for PWM control and is not needed in order for the fan to run. So you can plug the 4-pin fan connector onto the 3-pin motherboard fan header, leaving the fourth pin not connected to anything. The fan will potentially run at full speed, so if you would like to reduce the speed of the fan you will need to adjust the fan speed setting in your BIOS or use fan control software such as SpeedFan in Windows.
The only other problem to consider is that occasionally, components immediately adjacent to the motherboard fan header can get in the way of the larger 4-pin fan connector, physically preventing connection. This problem also occurs if you try to use an in-line fan speed controller such as the one made by Gelid.
Another avenue to explore is the possibility of using a bay-mounted fan controller. Several models are available now which provide 4-pin fan headers, so this is an easy way to use 4-pin PWM fans in a PC system which has only 3-pin fan headers on its motherboards. When using this method, you may find it necessary to disable any fan warning settings in your motherboard BIOS, since the motherboard may incorrectly believe that its CPU fan has failed when the fan is connected to a fan controller rather than directly to the motherboard itself.
Sours: https://www.quietpc.com/40mmfans
Silent Fan Upgrade For Voxelab 3D Printer - Setup \u0026 Guide For Beginners
.
Fan 24v silent
.
Blowers! - Boring video about FANS!
.
Similar news:
.
132
133
134
135
136