How to set up Salesforce Surveys
Salesforce Surveys was released in Spring '18 and, since then, has been further enhanced with more features. Still, resources on how to set up and work with surveys are still quite scarce.
In this blog post we will walk you through the setup process for Salesforce Surveys and call out some of the gotchas so you can start making use of this super handy feature.
What are Salesforce Surveys?
Salesforce Surveys enable organizations to create engaging surveys to collect feedback and information from users or customers.
Organizations can select different types of questions to gather relevant data for their use case. After each question, administrators can customise the type of responses that can be collected. Data collected by the surveys are stored in Salesforce and this data can be used to measure your internal KPI's and gain insights using reports or dashboards.
Let's now take a look at how we'd approach setting up Salesforce Surveys in our Salesforce instance.
How to enable Salesforce Surveys
The first step is to enable surveys from the setup menu.
Select Setup

Enter Survey in the Quick Find search

Select Survey

Select Survey Settings

Select Enable Surveys
Important note:
Two sample surveys are added to your Salesforce instance when Surveys are enabled

To send surveys to your customers, a default community is needed to send out public survey invitations

Setting up permissions to create or send Surveys
Standard profiles:
To be able to create or send a survey, users need to be assigned one of the following four standard profiles:
Standard user

System administrator

Contract manager

Marketing user
Note:
The assigned profile must have the View Setup and Configuration permission enabled

Create, Read, Edit and Delete permissions are needed on the Asset object to be able to insert images in survey pages
Custom profiles:
For users with custom profiles that need to be able to create and send surveys, the following object permissions are required:
For users within the company to be able to respond to surveys they would need the following permissions:
For guest users to be able to respond to surveys they would need the following permissions on Guest User Profile of the default community:
Survey Sharing Settings
Surveys may contain sensitive information which the survey participant may only need to share with the survey owner. In these cases, administrators can configure the survey sharing settings to ensure the creator can see all the responses, but the participant cannot.
Select Setup

Enter Sharing in the Quick Find search

Select Sharing Settings

Select Edit

Select Private from the dropdown list for Survey

Select Private from the dropdown list for Survey Invitation

Select Save
Creating your Survey
Now we are ready to build our first survey 🙌
Adding Questions
Now we are ready to add the main content of the survey - the questions!
Repeat steps 1-4 until you have added all questions you need. Final Survey pages will look something like this:
Survey Logic
Administrators can personalize the participants' experience by either adding page branching or question logic.
For example in our survey, if the participant scores a 5 for the first then we would like to skip to the 3rd page of the survey.
We can do this by following these steps:
Rules can be added for question logic also. A good example use case would be when a participant selects a score below a certain value, then you might want display a text prompting them for the reason behind the low score. Display logic can be found on the questions on a survey page.
Now that we have added our branching logic we can activate our survey!
Activating your survey
We have completed the build of our survey and have finished adding questions and page branching logic. Before we can send out the survey, though, we must first activate it.
The survey can be activated by selecting the Activate button followed by the Got It button.
We have now successfully activated our survey! Now to send it to our participants!
Sending your survey
To be able to send out the survey we must go to the Send tab of the survey.
For this scenario, I'll be sending the participant an email.
Complete the following steps:
We now have sent out a survey to a customer to be completed.
Analyzing Survey Responses
To analyze your Survey Responses you have to go to the Analyze tab. Here you can see responses for all the completed surveys. Survey responses can be exported if needed.
Final thoughts
In summary, Salesforce Surveys have come a long way since its inception, but now we have a well-rounded feature that should be explored and used for business cases.
We have implemented surveys to be automatically sent to customers upon the closure of cases using automation, a great way to capture customer service feedback. If you need help with implementing surveys or thinking of potential use cases feel free to reach out to us at Candybox CRM and have an open discussion.
Kathryn Castle
Sours: https://www.candyboxcrm.com/blog/how-to-set-up-salesforce-surveys
Salesforce Survey
Survey forms are a great way to collect information and feedback from the people/customers that matter most to your organization. It is analyzed carefully by a specially trained group of people to make key decisions.
What is Salesforce Survey?
Surveys are for collecting feedback and data from your users or customers by using a simple editor. The survey data that you collect from participants is stored in your org. You can then use Salesforce to view survey data, create reports and dashboards, and share insights with your company.
Pre-Requisite:
Enable & create a Community.
Enable Salesforce survey by setup à Survey Settings.
Select the domain for which we created community.
4. Create and assign permission set to the users who need to create and access Survey by giving CRED permission on Survey objects.
5. Survey object is a Standard object. Drag and drop the object into the App in which you want to access it. App Manager à Click Edit on the Selected App à Drag and drop the Survey object into Selected Tab list.
Create Survey:
On the Surveys tab, click New to open the Survey Builder.
Edit the survey's title page.
To add a question page, click Add Page in the sidebar.
4. To add one or more questions to the page, click Add Question. Below is the question type that we can add:
Date
Multiple Choice
Picklist
Radio
Rating
Customize the survey's "Thank You" page.
To review how the survey looks, click Preview.
Click Activate the survey so that you can send it to participants.
Example – Preview of a Survey system:
Created a Survey system to collect the feedback on Solar panel.
Send Survey to Participants:
After activating the survey, we can send it to customers to gather data. We can invite participants either by generating an invitation link or by sending an email invitation.
To enable participants to take the survey without logging in, make sure that:
Communities are enabled in your org.
Public access is enabled for the community.
On the Survey Settings page, the community is selected as the default for generating public survey invitations.
To Generate Survey Link:
In the Survey Builder, select Send à Get Link.
Select whether you want to send your survey to participants within your company or outside your company.
Copy the survey link, and send it to your participants
Send Survey Invitations by Email:
In the Survey Builder, select Send | Send Email.
2. Select a question or the survey link and click Next.
3. Compose the email. You can include up to 50 recipients.
4. Click Next.
5. Use the survey invitation settings to control your survey's security.
Unique link – Each participant receives a unique invitation link. The participant's name is associated with the participant's response record.
Anonymize responses – Participants can take the survey without revealing their name or other identifying information.
Don't require authentication – Participant who receives a link take the survey without logging into Salesforce or a community.
Auto Expires– You can set an expiration date on generating a survey invite in the Survey Builder so that Participants will not be able to access after expiration date.
Click Send.
Email Preview:
View the Result of Survey:
We can view our survey results using the Analyze option.
How many surveys Completed or in progress?
Response that we receive from Customer.
Merits:
Easy to configure.
Simple to collect feedback and data from your customers by using a simple editor.
It is smarter and faster.
Reference:
https://www.salesforceben.com/7-cool-things-can-survey-forms-salesforce/
Sours: https://www.mstsolutions.com/technical/salesforce-survey/
How to Build, Send & Analyze Surveys in Salesforce in less than 30 Minutes
"Feedback is the breakfast of champions." – Ken Blanchard
And what will be a better way to collect feedback than sending Surveys. Salesforce Surveys was introduced in Spring 18 release. Using the Survey Builder point and click tool, you can create beautiful forms declaratively in no time. Then send them to your colleagues and customers to get their feedback. Upon its inception, it was included only in the orgs that had Health Cloud or Financial Services Cloud. If any customers didn't have either of that, they could still create their first survey for free but had to purchase licenses for creating more surveys. But not anymore
Now with Summer 19 release, Salesforce has made this feature free for everyone. It means that you don't need to purchase Survey Creator licenses anymore. Yes, it is good news but there is a catch to it. You need to assign certain profiles to users to give them access and users with only those profiles can create unlimited surveys and send invitations to participants. The profiles which include the special permission are:
Standard User
Marketing User
Contract Manager &
System Administrator
So let's make good use of this feature to gather your internal and external customers' feedback, suggestions and analyze those responses to fine tune the business processes. Follow along this step by step guide and within 45 minutes you would have your first Survey invitation ready to be sent out. And here is what we will be covering in this guide
Enable Surveys
Create a Survey
Preview & Activate the Survey
Send Survey to Internal Users
Send Survey to External Users
Send Survey to Leads & Contacts
Send Survey Using QR Code
Automate Survey Invitations Using Process Builder
Analyze the Survey Results
Export Survey Responses
References & Useful URLs:
Trailhead Trail – Get Started with Salesforce Surveys
Salesforce Surveys – https://help.salesforce.com/articleView?id=sf.concept_salesforce_surveys.htm&type=5
Blog Change Log:
Mar 2021 – Reviewed and Updated Screenshots (taken on Spring '21 Release)
May 2019 – 1st Published
Sours: https://www.asagarwal.com/step-by-step-guide-on-getting-started-with-salesforce-surveys/
Create Survey in Salesforce - Feedback Program Salesforce Tutorials - Mini Project - Trailhead
Build Your Survey
Erin starts with six basic questions, but she fears that the participants might lose interest if the survey runs into multiple pages. So, she decides to keep more than one question in two of the pages. Here's how she does it.
Click Add Page.
Enter the page name: Solar Panel Installation.
Click Add Question.
Select Rating.
Enter the question: Rate your experience with the solar panel installation.
Set the scale because it's a rating question. In this instance, keep the default scale of five stars.
Click Add Question.
Select Long Text.
Enter the question: Tell us what didn't go well with the installation.
Here's what Erin ends up with.
Next, Erin wants to add a question where customers can score their solar panels. To do this, she adds the question to a new page and makes it required.
Click Add Page.
Enter the name: Solar Panel Score.
Click Add Question.
Select Score.
Enter the question: Score our solar panels.
Open this image and save it to your desktop.
Click  and add the image you just downloaded to the question.
Select the solar_panel.jpg image.
Click Open.
Reduce the maximum score from 10 to 5.
Click .
Select Required.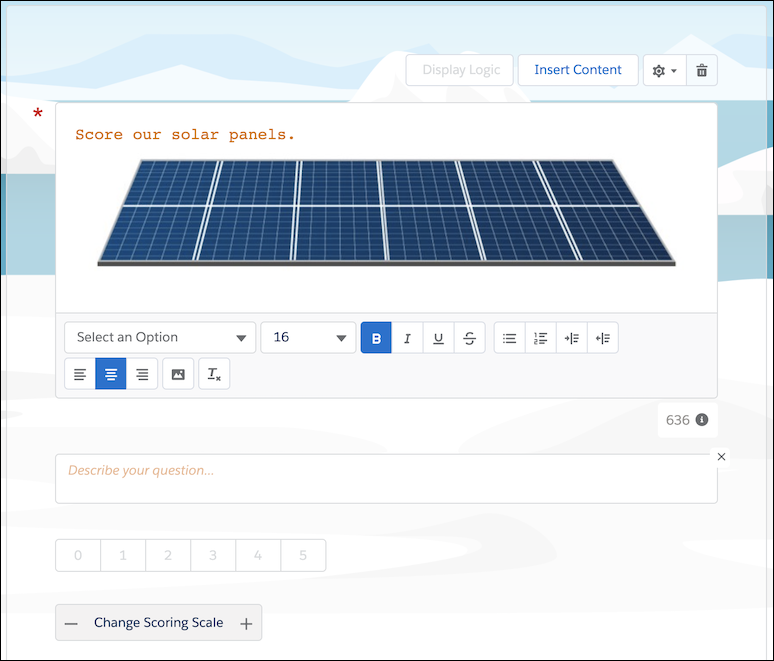 Erin also wants to use a Long Text type question to understand why the participants provided a low score to the solar panels. To do this, she'll use the Insert Response feature.
Click Add Page.
Enter the name: Low Score Details.
Click Add Question.
Select Long Text.
Enter the question: Tell us why you rated our solar panel.
Click Insert Content.
Select Response from a previous question.
Click Next.
Choose which question's response you want to insert. In this instance, choose Page 2 Question 1 : Score our solar panels. The response is inserted in the form of a merge field.
Click Insert.
Add a question mark to the end of the question.
This is how the question appears.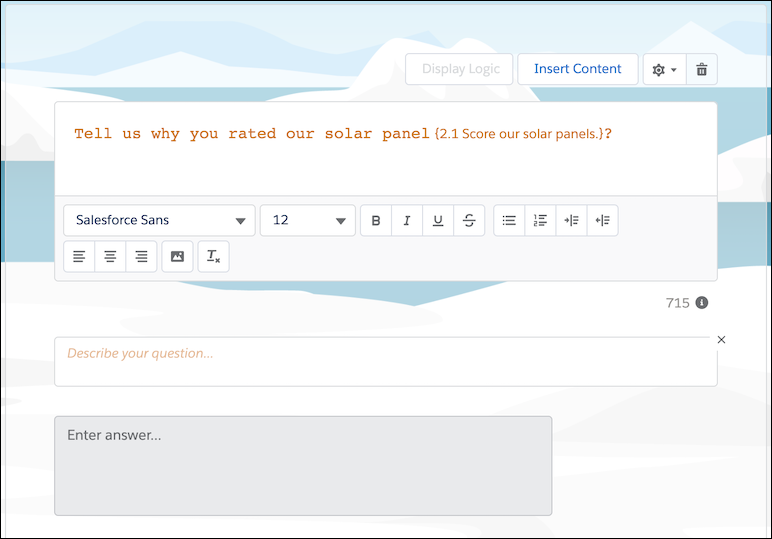 Erin adds two more pages to her survey to make sure she's gathering the right amount of feedback. She creates the fourth page using the following values.
Page and Question
Input
Page Name
Rank and Recommend
Question #1 Type
Ranking
Question #1
Rank which features of the solar panels are the most useful.
Ranking Items

Low Maintenance
Protects Your Roof
Constant Power Source
Highly Durable

Question #2 Type
NPS
Question #2
Would you recommend our solar panels to your friends and family?
She creates the fifth and final page using the following values.
| Page and Question | Input |
| --- | --- |
| Page Name | Other Improvement Areas |
| Question Type | Long Text |
| Question | Any other areas of improvement? |
Erin likes how her survey is shaping up. The last step is to add a thank you message.
Click Thank You Page.
Enter: Thank you for helping us make everyone's day a little brighter!
Click Save.
Sours: https://trailhead.salesforce.com/en/content/learn/modules/survey-basics/build-your-survey
Builder salesforce survey
Salesforce Surveys is now available with the Spring '18 release! This new feature allows you to create easy-to-use forms for collecting feedback and data by using a simple editor. All the survey data you collect is stored within your org. You can then use Salesforce to view survey data, create reports and dashboards, and share insights with your company. I'm going to walk through how to enable, customize and activate your first Salesforce Survey.
Availability
Salesforce Surveys is available by default in: Developer, Enterprise, Performance, and Unlimited Editions with Health Cloud. If you have Developer, Enterprise, Performance, and Unlimited Editions without Health Cloud, you can still create a one survey for no additional cost. However, if you want to create multiple surveys, there's an additional fee.
1. Enable Surveys within your Org
Navigate to Setup > Feature Settings > Survey > Survey Settings and toggle the setting to Enabled
2. Give users permission to create surveys
Now that you have enabled Surveys within your org, you will need to give users permissions to create surveys. According to the Salesforce documentation, there should be a permission set called Survey Creator, which you can clone. In my testing, I haven't seen this permission set available. So, you will need to create your own permission set and give users Read, Create, Edit, Delete permissions to the Surveys and Survey Invitation objects.
Assign the new permission set to the users who will create surveys.
3. Customize your start page
When you create a survey the first page that appears in the start page. This will be the first thing your respondents see when clicking on the survey link. You can add some header text and a description for your survey.
4. Add your Questions
You can choose from 5 different question types when creating a survey:
Radio: Only one answer can be selected
Multiple: Multiple answers can be selected
Text: a free-form text response
Rating: a custom rating from a scale
Date: a date from a calendar
To add a question, click the add a question button and select your question type. You will be prompted to enter your question, an optional description, and any values depending on the field type you selected.
You can turn off the description by click the "x" in the top right corner of the description box or by clicking on properties and unchecking description. The properties box is also where you can mark the field as required. By default none of the questions are marked as required.
Questions are listed down the left sidebar. You can also click on a question within the sidebar to copy or delete the question.
6. Update the 'Thank You' Page
Click on the last card in the sidebar to customize your 'thank you' message.
5. Customize the survey to match your brand
Click on the paint brush icon to update font colors, button colors, background images and colors. If you choose to upload a background image the image size cannot be more than 750KB.
Font sizes and font families must be updated using the WYSIWYG editor provided for each question, thank you page and start page.
6. Activate it!
When you're happy with your Survey or if you want to test it, click the activate button in the top right corner of the page.
7. Get your link and send out your Survey
Click on the Send tab to get the link of your new Survey. Select whether you want to send your survey to participants within your company or outside your company. To enable participants to take the survey without logging in, make sure that you have Communities are enabled in your org and public access is enabled for the community.
Select anonymize responses if you want to participants to take the survey without revealing their name or other identifying information.
Select let participants see their responses if you want to allow participants with Salesforce accounts in your org to access their response records after completing the survey.
8. View the responses
Survey responses can be viewed by clicking on the analyze tab within the survey builder.
If the Analyze page in the Survey Builder doesn't give you the information that you need, you can create a custom report type for survey responses.
Questions?
Send them to me via email, send me a tweet @jennamolby, or leave a comment
Receive my latest posts directly to your inbox
Sours: https://jennamolby.com/how-to-create-your-first-survey-using-salesforce-surveys/
Platform: Salesforce Surveys
Undoubtedly, customer experience and customer satisfaction are two cornerstones to compete and survive in today's market. Do you want to know how you can provide the best and compelling customer experience across all touchpoints? This is where Salesforce Surveys comes into the picture. 
Surveys in Salesforce are a powerful tool to collect feedback and data from your users or customers and supercharge your customer experience by using a simple editor. It provides you with a wide range of out-of-the-box features and functionalities to make excellent and easy-to-use forms for collecting feedback and data from your clients. The survey data that you collect from the users is stored in your Salesforce org. You can then use Salesforce to view survey data, create reports and dashboards, and gain data-driven insights across organizations. 
Steps To Send Survey In Salesforce
Salesforce survey empowers the Salesforce users to create complex surveys using a simple editor within your Salesforce Org. This functionality can be leveraged by Sales or Service Cloud customers to receive 300 survey responses before any additional purchase is required.
Prerequisite To Send Salesforce Survey
Step 1: Setup Community Domain name and create a Community.
3. Now, select a community that will be used by the Survey to generate public links.
4. If a Survey object is not visible for a user, then create a Permission set, provide access to the Survey object and then assign it to the user.
Step 2: The Survey that is created can be added to the Dashboard if required, as it is shown on the Home tab.
Introduction To Salesforce Survey Data Model
Once a Survey is created by the Admin, it can be used by any user or customer. A survey Invitation needs to be created, whose link will be sent to the Customer. These created links can be sent directly to the Customer or automated to be sent via flow or Process Builder or Workflow.
Other than the Salesforce Survey, there are various applications present in Salesforce Appexchange that allow users to create, map the response to Standard and Custom Objects, and provide follow-up for the Critical response. Some of the Salesforce AppExchange Applications will be discussed later in this blog.
Steps To Create Surveys From Survey Builder
Step 1: Go to the Survey object and click on the New button.
Select the recipient type.
Survey invitations can be sent only to leads, contacts, and users.
Recipients can be selected based on the object, which is associated with the process.
Select your invitation settings.
Click on the Save button.
Best Salesforce AppExchange Survey Applications
Here is the list of best Salesforce Surveys Applications available on the Salesforce AppExchange marketplace that can be used to raise the bar on customer experience.
SurveyMonkey
Survey responses will be mapped to either a standard object or a custom object.
Workflow created can be automatically sent to the survey after specific interactions such as when a case closed or opportunity is lost.
Key stakeholders will be notified of feedback for better customer relationships.
Feedback provided by the customer can be seamlessly analyzed with Salesforce Reports and Dashboards.
Text Analytics can be used to identify Keywords.
Simple Survey
No Integration Required; everything resides in Salesforce.
Create automated customer feedback surveys to send surveys after specific conditions such as case closure, project milestones, or follow-ups.
Responses can be analyzed through Survey Insights (open beta).
Packaged reports & dashboards measure Response Rates, Average Scores, NPS, and Leader/Slacker boards.
SurveyVista
Provides you with 25+ Question Types including Net Promoter Score, Rich Text, Signature, and Consent
Send surveys via process builder after specific interactions such as case closed or opportunity lost.
Send Surveys to emails, users, contacts, and standard/custom object records.
Response mapping can be done to modify surveys and Form data into the Salesforce data that can be used to gain invaluable insights into the customer's needs.
Tracking and improving customer satisfaction isn't an easy task. When it comes to providing the best and personalized customer experience, Surveys in Salesforce would be an ideal option to get real-life answers and opinions from the customers and provide them with the right tools to always stay ahead of customer expectations.
If you need any help or guidance in setting up and creating Surveys in Salesforce, get in touch with the best Salesforce consulting company. The team of certified Salesforce consultants at Cloud Analogy can help you in every aspect of the Salesforce Survey and help you achieve functional efficiency with Salesforce. Hire the best Salesforce Consulting company now!
Sours: https://blog.cloudanalogy.com/salesforce-surveys-overview-how-to-create-and-send-surveys-in-salesforce/
You will also like:
Three easy steps to create a Survey.
Hello everybody! Many of you have already heard about the Salesforce Community Cloud Survey component which is available for use with Spring 18 release and it looks awesome.
Unfortunately, this component is paid or available for free for those who has Health Cloud license.
Before you start using the Salesforce Survey, you have to enable it in your org. From Setup, type Survey in the Quick Find box and choose Survey Settings. Enable Survey.

If you have active communities in your organization, you can choose the default one to create public surveys there.

Once you enabled Survey, "Surveys" tab will be created in your org. To get into the Survey builder, choose "Open Latest Version" function.

Survey builder has 3 areas: view, send and analyze. These are three easy steps to create a Survey and to get a feedback from your customers.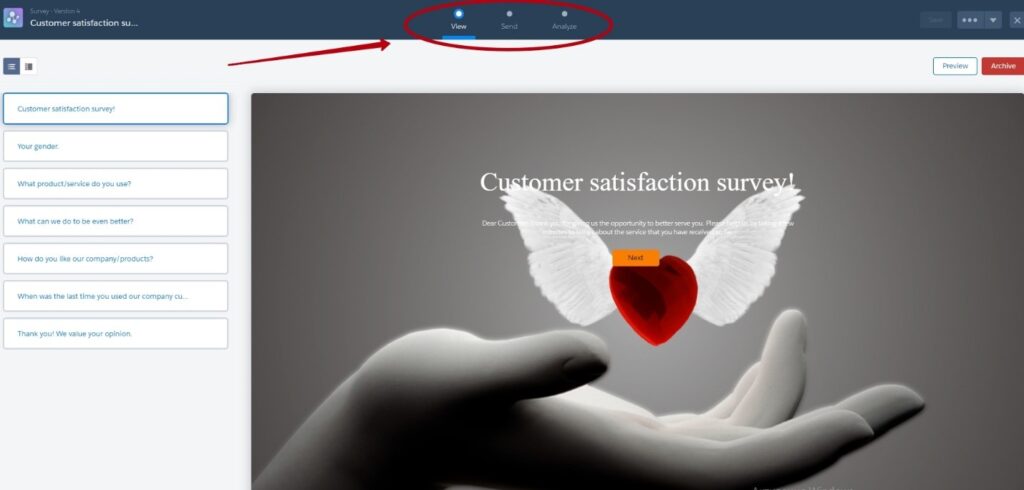 Step # 1.Build your Survey.
You can create a unique branding for your survey. Change its background image, choose text and buttons colors using HEX code within the "Style" option.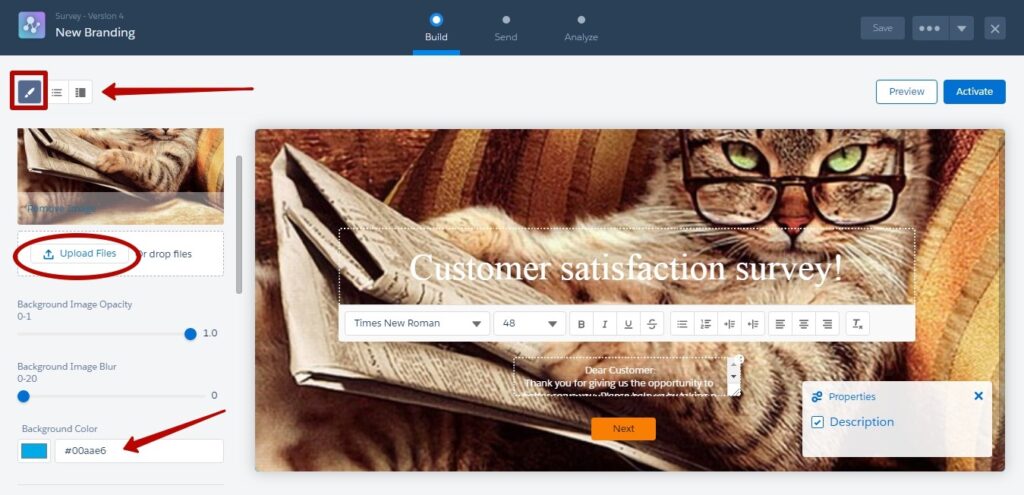 The other two buttons next to the Style allows you to see the Survey as a List or a Set of Tiles.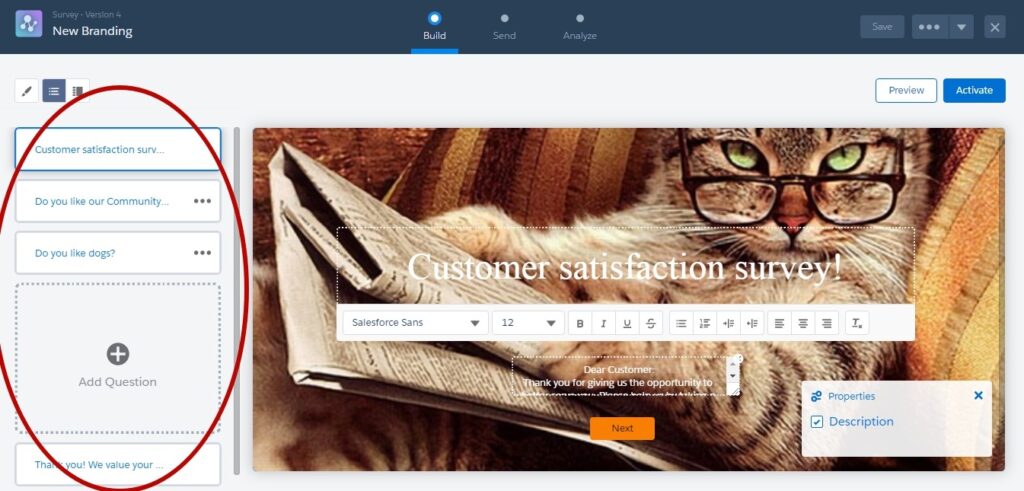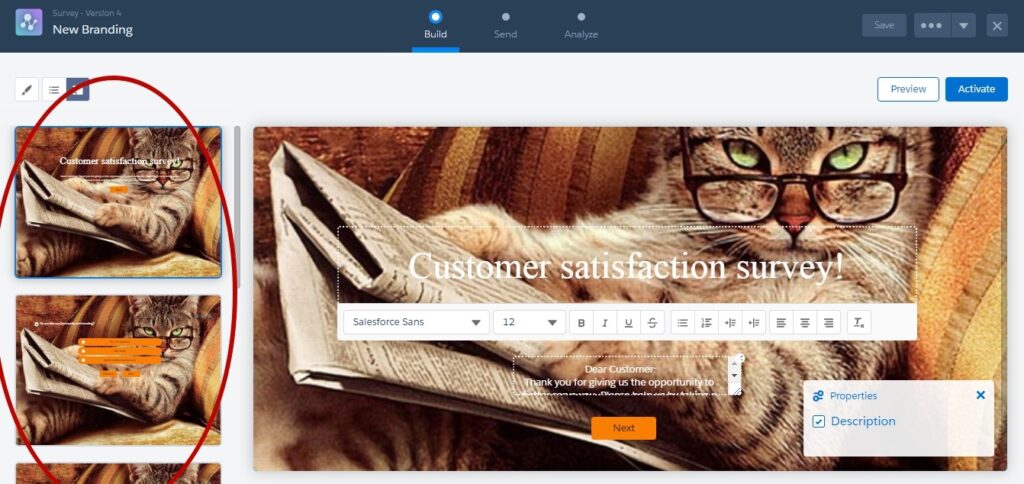 The first page of a Survey is usually a Welcome page.  Here you can add the name of your Survey, change fond and add or remove a description field using the properties box in the down right corner.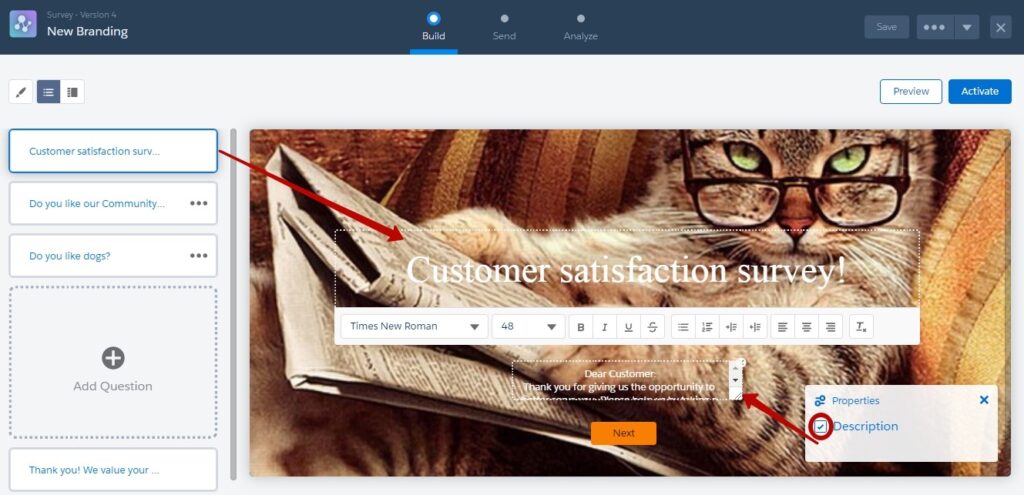 To add questions, click "Add question" button and choose one of the types:
Radio – single-select option
Multiple choice – multiple-select option
Text
Rating
Date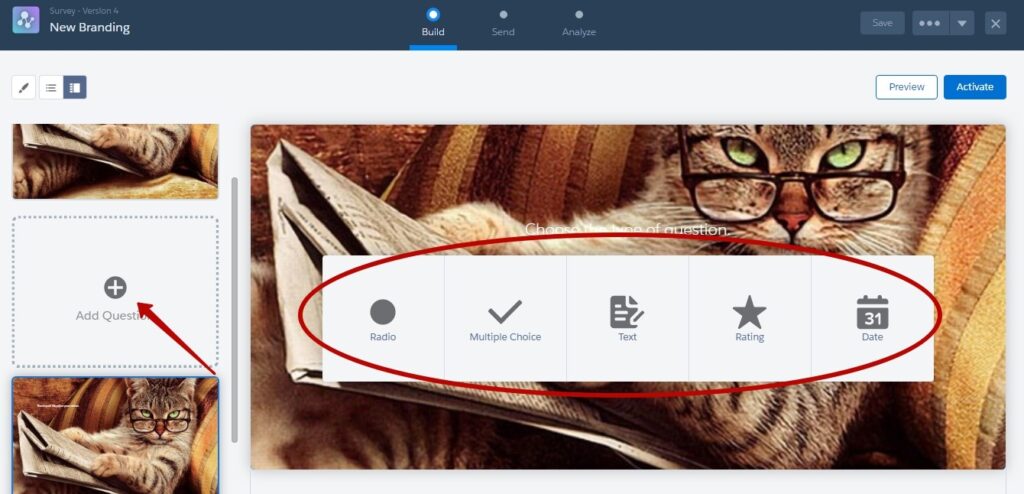 Type a question, add choices if necessary and click Finish. Use Properties box if you want to make this question required or add a description. You can add as many questions and use different types in your Survey as you wish.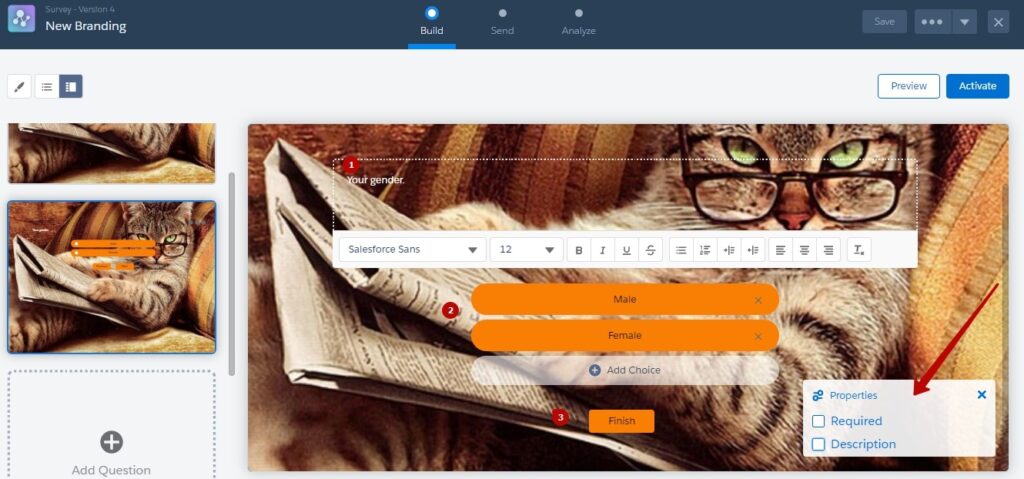 When you finish, click "Save" to save your changes. "Preview" your Survey to check questions and variants. If everything done in a proper way, "Activate" your Survey.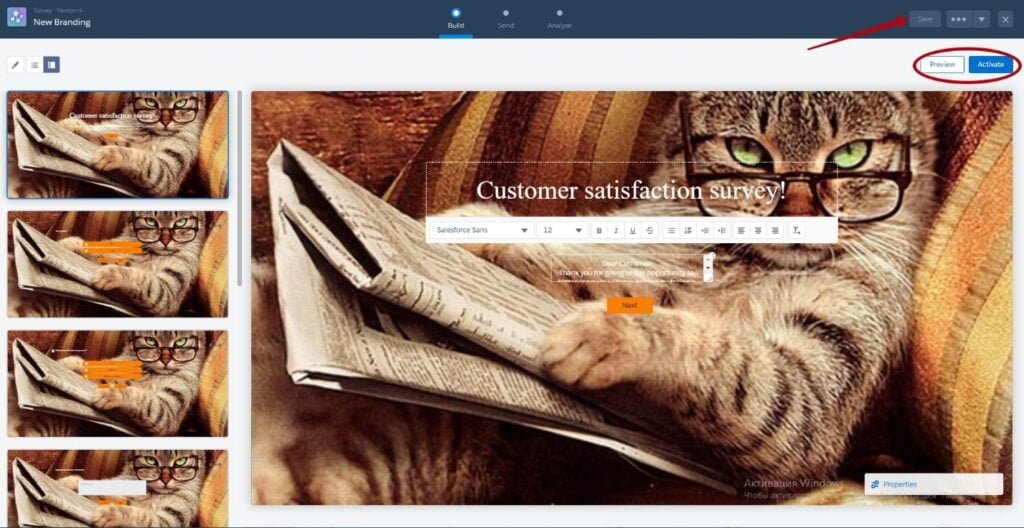 Step # 2. Send.
Go to the "Send" section. Here you can Copy the link for Survey and send it to participants in or outside your company. You can also enable such functions as "anonymize responses", "let participants see their responses" for internal users, and "don't require authentication" for external users.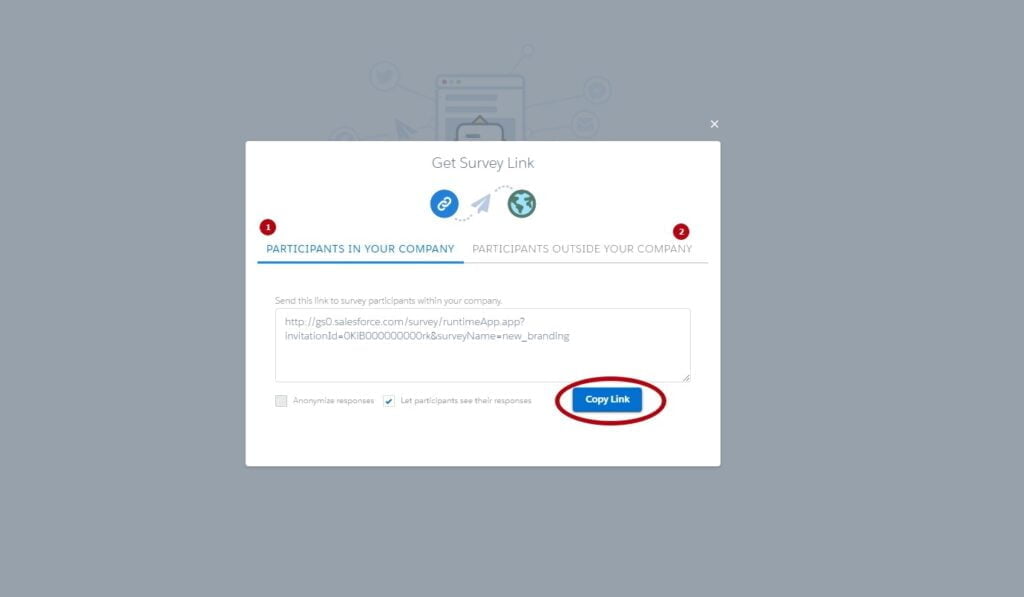 To add Survey to the Community, just go to the Community Builder and drag and drop the "Surveys" component to the template. You can create a separate page either use an existent one, for example Home page or even a sidebar.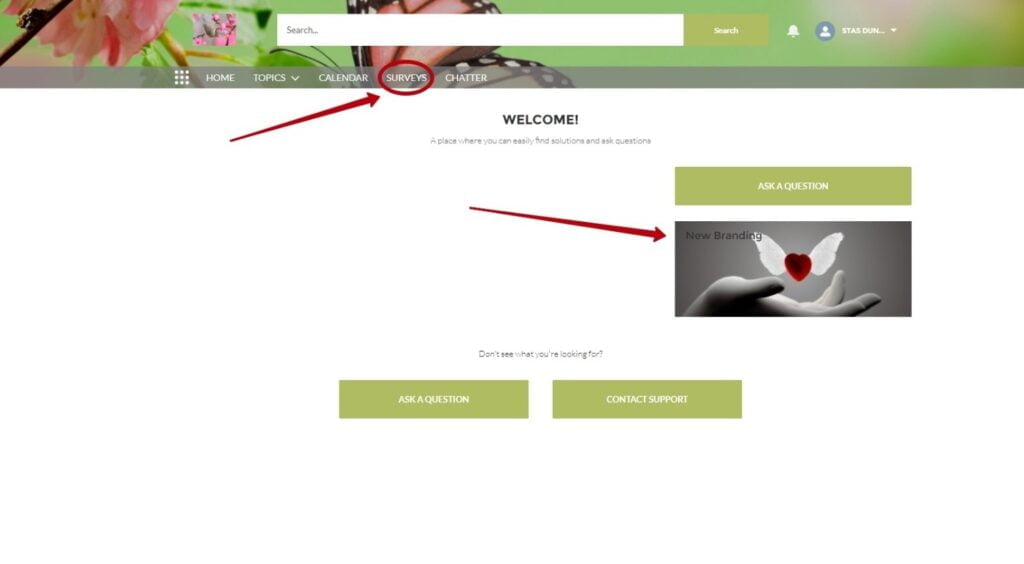 Step # 3. Analyze the feedback.
Within the "Analyze" section you can see how many surveys were done and what are the responses.
An "Analyze" section is a simple analytics page where you can see how many surveys were done and how many are in progress. The responses are shown in donate charts for rating and choice questions and in lists for text and date questions.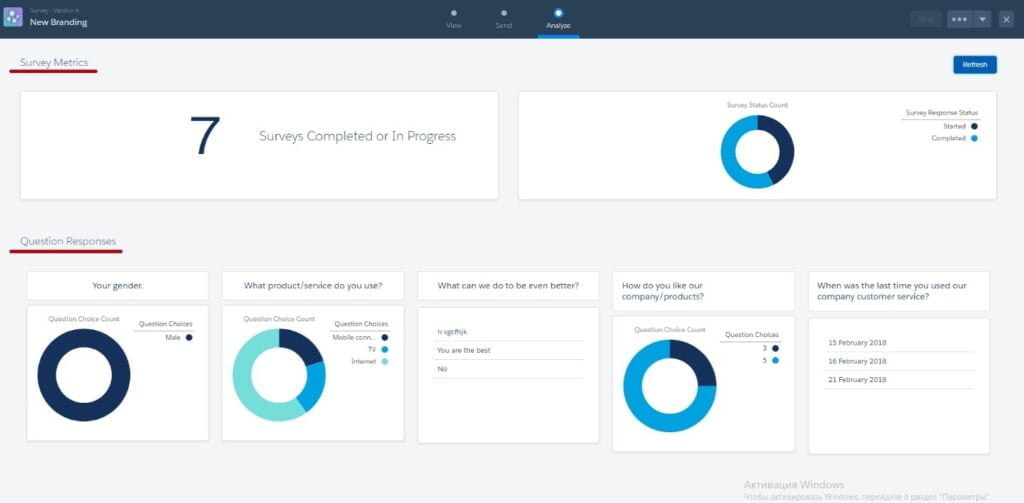 You can also check the responses of each concrete person in your org.
Go to the Surveys tab and choose the survey; in the Related section follow the necessary invitation link, depending on whose answers you would like to see: an internal or external user. Go to the Related section again and choose a submitter name to see the user's answers.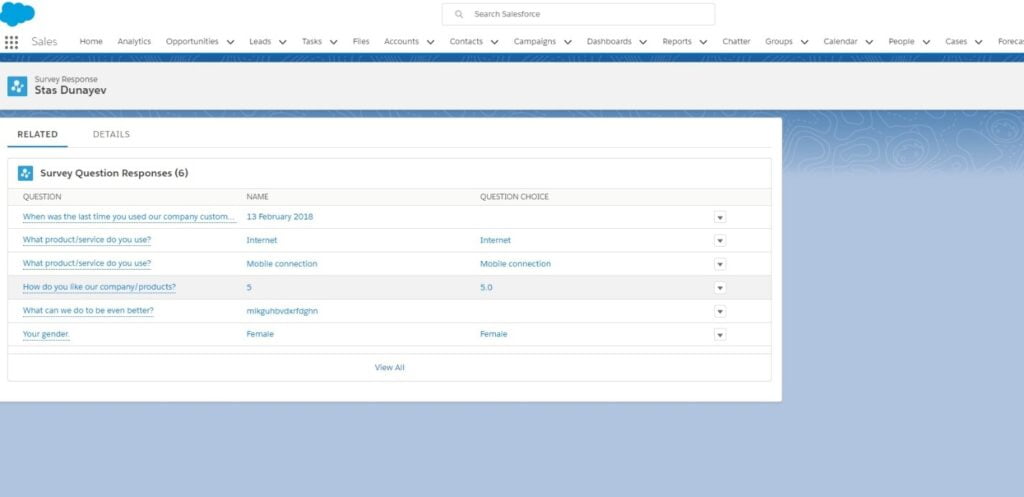 Sours: https://advancedcommunities.com/survey-overview-three-easy-steps-to-create-a-survey/
119
120
121
122
123